Atlantic Coast Cruise on the Ventura from only £899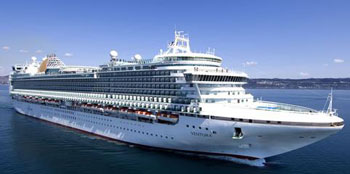 This is a call to book offer to check availability or to book

call Cruise The World2 on
0161 360 0154
08th August
Ship Description
Ventura is one of the largest cruise ships in the P&O Cruises fleet. Ventura is where you'll find an incredible choice of facilities from bars, restaurants, a sports court, spa and theatre. Plus Ventura also has a number of exciting features that are exclusively hers. Ventura's signature restaurant is The White Room by none other than Marco Pierre White himself. But there are also 11 other restaurants to tempt you including a tapas bar and restaurant, a stunning Asian restaurant and a choice of Club Dining - the same table at the same time each evening, and Freedom Dining - no fixed seating or dining times. Ventura is a highly entertaining ship. A theatre with full production shows doubles as a cinema, she has two lounges for cabaret, tributes, comedy and dancing and even Metropolis, an amazing bar with a panoramic video wall brought to life by a different city skyline each evening. She also has great sports facilities, a well equipped gym and spa, a large sports court and 4 pools (one with a retractable roof). In fact, Ventura is very family-friendly. In addition to fantastic children's clubs and a play area for under 2s, there's a circus skills school on top deck, Rock School, where teens can shred guitar, and Noddy and Mr. Bump from the Mr. Men Show are regular visitors. She even has a 24 hour buffet restaurant so the only routines you need to keep are your own.
Ship Facilities
Facilities
Entertainment
3D Cinema
Casino
Childrens Club
Childrens Play Area
Cinema
Fortunes Casino
Toybox
Fitness
Fitness Center
Gym
Sports Court
Food and Drink
24-hour Room Service
Bar
Bay Tree
Beachcomber
Cinamon
East
Marcos
Oriental Restaurant
Pizzeria
Ramblas
Saffron
Tamarind Restaurant and Silk Den Lounge
Tazzine
Terrace Bar
The Beach House
The Pub
The White Room
Waterside
Other
Art Gallery
Atrium
BookShop
Business Centre
Duty-free shop
Gift Shop
Laundry Service
Medical Centre
On Board Doctor
Photo Gallery
Shops
Shore Excursion Office
Recreational
Decibels
Golf Nets
Library
Relaxation
Beauty Salon
Hair Salon
Jumping Jacks
Oasis Spa
Sauna
Spa
Steam Room
Swimming Pool
Terrace Pool
Thermal Suite
Whirlpool
Cruise Itinerary
8th Aug 2013 Southampton, England Depart 12:00
9th Aug 2013 At Sea
10th Aug 2013 At Sea
11th Aug 2013 Lisbon, Portugal Arrive 08:00 - Depart 17:00

Lisbon was once the most powerful and wealthy city in the world, thanks to the efforts of Portugal's seafaring explorers. The evidence remains in its lavish palaces and monasteries, crammed with imperial treasures.
12th Aug 2013 Gibraltar Arrive 12:00 - Depart 18:00

To the ancient Greeks and Romans, Gibraltar was one of the two pillars of Hercules, set up by the mythical hero to mark the edge of the known world. Today it's home to the most famous rock in the world. From the summit, on a clear day, you can see across to Africa. From the top of Europa Point to the subterranean depths of St Michael's Cave, your visit will be filled with interesting sights and sounds.
13th Aug 2013 Malaga Arrive 08:00 - Depart 18:00
14th Aug 2013 Seville (Cadiz), Spain Arrive 08:00 - Depart 18:00

Capital of the province of the same name, Cadiz is not only one of the largest ports on the Atlantic coast of Spain, it is also the oldest inhabited town in the western world with 3,000 years of history.
15th Aug 2013 At Sea
16th Aug 2013 La Coruna, Spain Arrive 08:00 - Depart 15:00
17th Aug 2013 At Sea
18th Aug 2013 Southampton, England Arrive 07:00
FROM ONLY £899!
Price includes: Cruise to and from Southampton
To check availability or to book

call Cruise The World2 on 0161 360 0154
ABTA K5111. Agent for ATOL Protected Operators.
Tour operator's description & rating applies.

Debit/Credit Charges Apply