Afandou Holidays
We currently have no offers to display for Afandou.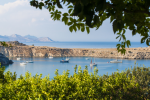 Book a cheap Afandou holiday and enjoy a relaxing break in a charming village on the east coast of Rhodes. Holidays to Afandou can be taken from Easter to the end of October with temperatures rising from twenty to thirty at the height of the season. Located twenty kilometres from Rhodes Town and five kilometres from Faliraki, Afandou holidays are particularly popular with families and couples. One of the largest resorts on the island, holidays in Afandou offer a range of recreational facilities and boasts the only golf course on Rhodes. The beach of pebbles, sand and shingle is washed by crystal waters and provides safe bathing for children and less confident swimmers.
Cheap Holidays To Afandou
Take one of our low cost Afandou holidays and unwind in a guarantee of summer sunshine or participate in the many water sports offered from the beach. Savour traditional cuisine in friendly tavernas, and enjoy evening entertainment provided by larger hotels and lively bars, when you book one of our Afandou holiday offers.
For further details and to discover our last minute Afandou holidays, please use the search facility.
Sorry, no reviews were found for this location.