Holidays to Egypt
Click on the prices displayed below to view our offers. Please be patient while results are returned. It may take up to 30 seconds.
Please note, prices updated at around 13:00 PM each day. For up-to-date prices, click through to the offer results.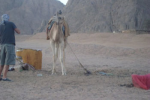 Egypt has always had a mystical attraction, and our selection of breaks will soon have you jetting off to the land of the Pharaohs.
However, a trip to Egypt isn't just about desert sands, pyramids and temples. Its two coastlines, the Mediterranean and the Red Sea, provide miles of sandy beaches, clear blue water, beautiful coral reefs and an extensive selection of water sport facilities. Better yet, all of this can be enjoyed in the depths of our gloomy winter!
Our modern hotels and apartments offer every comfort and convenience without compromising your budget. Whether it's deep sea diving in the Red Sea, playing a round of golf or going on a camel safari, there's a wide variety of activities to try as well as excursions to the famous historic sites.
So if you're looking for a different type of break, browse through our holidays to Egypt, and you'll surely find one that suits. If you're travelling in a group, check out our all-inclusive deals, which include food, drink and snacks – and some even come with entertainment.
Search now using our handy tool to find the latest Egypt holidays.