Lanzarote 3-Star All Inclusive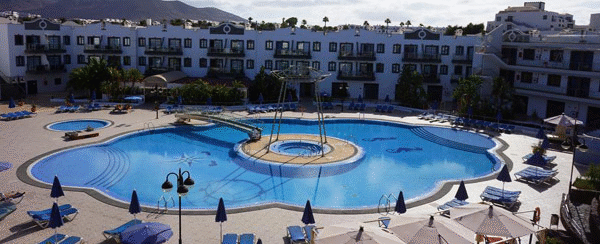 Located in Playa Blanca on the island of Lanzarote, the Rubimar Suite Hotel offers everything a holidaymaker could want. The Rubimar Suite Hotel sits on the Marina Rubicon Sports Harbour where guests can enjoy the close proximity to the ocean and head to the Playa Dorada to enjoy an afternoon of sun on the beach.
Renovated in 2010, the Rubimar Suite Hotel has 89 stylish apartments. Each apartment has one bedroom and comes equipped with all the comforts of home. The apartments sleep up to four people and come with a living area and separate bedroom with two beds. The living area comes with a sofa bed, allowing families space on holiday. The apartment is also equipped with a kitchenette to allow guests to prepare meals.
The all-inclusive buffet restaurant provides guests with three meals a day, with a range of delicious international cuisines to choose from. Meanwhile the Rubimar Suite Hotel's pub disco is open from 11am to 11pm and is the perfect place for guests to watch the big sports events taking place around the world and cool off with a drink.
The Rubimar Suite Hotel has plenty of activities to keep guests on the move while on holiday. Guests can choose cycling, snorkelling, massage or mini golf during their stay. In addition, visitors can spend the afternoon in the spa and wellness centre, releasing all their stress from back home. The hotel also offers a children's mini club and playground. Kids can spend their days running around the resort having just as much fun as their parents.
The Rubimar Suite Hotel is a perfect choice thanks to its variety of activities. Add in the hotel's location on the beautiful isle of Lanzarote, and you have an idyllic holiday destination.
A few minutes from Playa Blanca are some of the most renowned sites on the island such as Timanfaya National Park or El Golfo (the green lagoon). The coast is dotted with a series of beautiful beaches.


Share This Deal