Cala Blanca Holidays
Cala Blanca Offers
Click on the prices displayed below to view our offers. Please be patient while results are returned. It may take up to 30 seconds. Prices are for 7 nights, departing in the next 28 days.
Please note, prices in this grid are updated early each morning. For up-to-date prices, click through to the offer results. Final pricing is available when calling.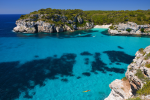 Cala Blanca holidays take you to the west coast of Menorca just four kilometres south of the beautiful old town of Cuidadela with its seventeenth century architecture. Holidays to Cala Blanca can be taken from April until October when the temperature rises from twenty degrees to low thirties at the height of the season. This is a purpose built modern resort that offers good amenities. Its sun- bleached beach, sheltered by rocky promontories and framed by pines, is gently lapped by crystal clear waters providing safe bathing for children and less confident swimmers. It is unsurprising therefore, that so many families are attracted by holidays in Cala Blanca.
Cheap Holidays To Cala Blanca
Our cheap Cala Blanca holidays offer great value, particularly for families. A high standard of accommodation, numerous restaurants and bars and a good number of shops all combine to make your holiday a success. The old capital, Cuidadela, is well worth a visit. There are good markets there each Friday and Saturday. If you are looking for a guarantee of summer sunshine in a friendly and relaxed resort, you may well find our low cost Cala Blanca holidays tempting.
For further information and to view our latest Costa Blanca holiday offers, please use the search facility.
Average Score


8


Based on 1 Review(s)
Latest Review:
"Very Nice Resort. Defo go bk."
Customise Reviews
Resort Reviews
joanne_boyer87 writes:
"Very Nice Resort. Defo go bk."
8.0 Show Ratings & Additional Details