Alpe D'Huez
Alpe D'Huez Holiday Deals
Sorry, we have no offers to display for this destination.
Alpe D'Huez Summary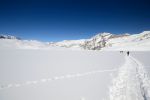 Alpe D' Huez ski holidays take you to a high altitude French resort located in the Grandes Rousses Massif where there is good snow cover throughout the season. Ski holidays can be taken from mid December to mid April. The summer months see an influx of climbers, mountain bikers and hill walkers to the village. Although the resort lies amid spectacular scenery, it lacks the traditional attractiveness and atmosphere one has come to expect in French villages, as its tourist developments are a hotch-potch of styles. This said, ski holidays in Alpe D'Huez have wide appeal as the one hundred and forty miles of pistes cater for all levels of ability.
Cheap Ski Holidays To Alpe d'Huez
We have a selection of cheap Alpe D'Huez ski holidays that those on a tight budget may find tempting. They are considered excellent value as our commitment to quality and service is never compromised. With a complimentary bus service and an efficient lift system, access to the sunny slopes is reasonably trouble-free. There is tuition from the age of three and there are also childcare facilities. Our low cost Alpe D'Huez ski holidays are very popular with families. With comfortable accommodation and restaurants catering for all tastes, our bargain Alpe D'Huez ski holidays are sure to please. Shopping here is good and bars and pubs provide an exuberant nightlife.
For further details and to view our best Alpe D'Huez ski holiday deals, please use the search facility.
Alpe D'Huez Photos