Cheap Egypt Holidays
Egypt Summary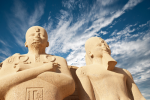 Think ancient and mystical pyramids, a mesmerising red sea and miles of exquisite desert sands. All of this and so much more can be experienced in the enthralling country of Egypt! Take a look at our selection of low-cost breaks and you could soon be jetting off to the land of the Pharaohs.
What does Egypt have to offer?
Although the climate in Egypt is magnificently hot all year round, it peaks in the summer months, reaching temperatures of up to 37 degrees. Therefore, for those wishing to avoid soaring temperatures but still enjoy a spot of sun, an out of season trip to Egypt may be perfect for you. After all, Egypt's winter season still boasts lovely days full of warm sunshine and clear skies, a welcome escape from the usually dreary and cold wintery months in the UK.
However, the luxury of having warm weather all year round means there is plenty of time to explore the breathtaking sights and treasures of this Middle Eastern country. Perhaps what makes Egypt so utterly unique is its enchanting combination of past and present. It is a country that effortlessly fuses modernity and antiquity, ensuring there is a wealth of experiences for every type of traveller to enjoy. So why not browse through our cheap holidays to Egypt and start your exciting journey now! You could soon be taking a trip to the mysterious Pyramids, one of the World's greatest historical phenomenons'. A visit here would be the perfect opportunity for families with young children who are eager to surround themselves in the historical mystery of the famous Pyramids. Spend the day exploring and discover what life was like for the Ancient Egyptians.
Often Egypt is thought of as being synonymous with spellbinding ancient history yet the brilliant modernity of the country should not be neglected. The city of Sharm-El-Sheikh, which lies along the coast of the red sea, characterises the contemporary feel of Egypt perfectly. With its elegant and chic hotels, stylish restaurants and luxurious nightclubs, it may be the ideal place to go if you are looking to treat your partner to a romantic getaway.
Fun for all
Egypt really can cater for an array of tastes. For those interested in tanning themselves in the constant Egyptian sunshine, the beaches of the Red Sea are ideal. Against the backdrop of picturesque mountains, the soft sand and sparking sea, could not be a more idyllic setting. However, if lounging around is not your thing, then get involved in the extensive water activities on offer including deep sea diving in the depths of the Red Sea!
An absolute must see in Egypt is the River Nile and our cheap holidays can transport you here with ease. It's no wonder Nile cruises appeals to huge numbers of tourists year after year. Just picture yourself gently floating on the calm and crystal clear water, appreciating the unspoilt views of distant meadows and palm groves whilst taking a sip of a chilled fruity drink…sounds too good to be true doesn't it? Well, it certainly isn't and this fairytale could become your reality!
So, why not check out our low cost holidays to Egypt and you could soon be enjoying a luxurious break in the country's lovely lands.
Travel Tips
Looking for a holiday to Egypt? Read our blog below for helpful advice.