India Holidays
India Holiday Deals
Sorry, we have no offers to display for this destination.
India Summary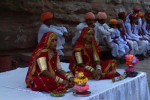 India, as the seventh largest country in the world, offers widely diverse holiday experiences, with geographical, climatic, economic, and cultural differences. It is indeed a country of contrasts; mountains and  valleys, hills and plains, deserts and wonderful coastal resorts, vast cities and rural villages; the climate varies from tropical in the south to temperate in the north; and there are areas of great opulence alongside grinding poverty where street beggars are a frequent sight.
Goa is the favourite region for beach lovers looking for winter sun. Avoiding the monsoons, October to the end of February is the perfect time to enjoy all that the state has to offer. Goa's beaches have fine white sand that really does shimmer in the heat and its  idyllic shores are lapped by the warm and gentle waters of the Arabian Sea.
Spice of Life
An India holiday has so much to see and to do, that many visitors choose to take a guided tour which escorts them to the main tourist attractions in their chosen region. The most visited attraction is of course the Taj Mahal which is regarded as one of the wonders of the world. It is a truly stunning structure built from white marble over a period of twenty-two years in the seventeenth century. Quite a feat when you consider how long it took to build many of our famous cathedrals. Another popular attraction is hunting for tigers in the national park, not to kill of course, but to spot. Going on elephant back to the park makes the event even more memorable.
Since the UK's favourite takeaway is a curry, gastronomes will be delighted by the huge choice of menu, and for the few whose favourite is not curry, a wide range of international cuisine is available. Although a long way away and considered an exotic destination, cheap India holidays may be elusive, but they can be found. Use our search facility at the top of the page, to find the cheap India holiday that offers the best value for money.
Travel Tips
If you are interested in India then check out our handy guides below, giving you helpful advice and ideas that'll save you time and money when you're going on holiday