Holidays to Majorca
Majorca Summary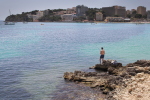 As the largest of the Balearic Islands, Majorca is an extremely popular tourist destination for those searching for a cheap holiday in the sun. Majorca – also known as Mallorca -- is a haven for holidaymakers on a budget, and with the large number of low - cost hotels scattered across the Balearic paradise it is easy to see why the island is so popular. A hotel is nothing without attractions to make holidaying worthwhile, and it is the abundance of beaches that surround the sun - kissed Spanish island that really draws the crowds.
 
Sun, sea and sangria

Majorca is home to nearly 100 beaches, attracting tourists from the world - over to enjoy the Spanish sunshine, sea and sangria. The sandy white Majorcan beaches are the perfect place to unwind and take in the crystal clear waters of the Mediterranean Sea while soaking up the rays from the blistering but gorgeous Spanish sun. Many bars and restaurants are located directly on the beaches of Majorca, allowing din ers to take in the breathtaking view while unwinding in the refreshing shade.
Spanish food to savour

Seafood lovers are in for a treat in Mallorca, as Balearic cuisine specialises in only the finest fresh fish – locally sourced of course. It is not unusual for a barbeque to take place in the open, allowing holidaymakers to watch their meal being prepared in front of their very eyes. If fish is not for you, then there is always the Majorcan delicacy of sobrassada, a spicy pork sausage. Be sure to try out the local paella dishes, as the Mallorcan people are especially proud of their paella.

As with most restaurants and bars in Spain, you will often find incredible value for money. If you would rather have everything you need under one roof, we also offer all - inclusive holidays to Majorca. These resorts are extremely popular for tourists looking for the cheapest holiday possible, as the option to pay for all food and drink up front allows you to fully enjoy the holiday without worrying about money as the week goes on.

Spanish Sports

Whether you are simply looking for a sunny beach to lounge on, or even take in a round or two of golf, Majorca's numerous attractions will allow for a cheap but memorable holiday for tourists with all manner of interests. Golfers in particular are well catered for, with the 18 full size golf courses in Majorca making the Mediterranean island a sports paradise! Sports fanatics who are looking for a more extreme holiday can enjoy the various rock - climbing locations made possible by Mallorca's unique geography.
Your dream Majorca holiday

Getting to the island could not be easier, as many discount airlines fly to Majorca, with the Palma de Mallorca airport in particular being a constant bustle of tourism as visitors arrive and depart the island at all times of day and night.

Once you have your flights arranged, it is time to sort out your accommodation! Villa rental in Majorca is an extremely popular method of saving money and enjoying a bargain holiday, with some of the villas available providing extremely high standards of accommodation for budget prices.

Whatever you are looking for in your holiday, we will help you find the best value holiday deal possible. We know that budgeting is important when booking any holiday abroad, and can assist you in searching for the best value for money holiday, without sacrificing on quality.

Start your search for a cheap Majorca holiday today by using our search tool located at the top of the page and you too could soon be enjoying your dream Spanish holiday.
Travel Tips
Interested in Majorca? This is where you'll find handy, helpful advice and ideas that'll save you time and money when you're going on holiday.
Majorca Photos