Camp De Mar Holidays
Camp De Mar Holiday Deals
| Date | All Inclusive | Half Board | Self Cat. | Full Board | B&B | Room Only |
| --- | --- | --- | --- | --- | --- | --- |
| Dec 2023 | - | - | - | - | £591 | - |
| Jan 2024 | - | £455 | - | - | £587 | - |
| Feb 2024 | - | £472 | - | - | £587 | - |
| Mar 2024 | £322 | £469 | £188 | - | £360 | - |
| Apr 2024 | £297 | £475 | £247 | - | £366 | - |
| May 2024 | - | £503 | £274 | - | £394 | - |
| Jun 2024 | £1507 | £544 | - | - | £435 | - |
| Jul 2024 | £552 | - | - | - | - | - |
| Aug 2024 | - | - | - | - | - | - |
| Sep 2024 | - | - | - | - | - | - |
| Oct 2024 | - | - | - | - | - | - |
| Nov 2024 | - | - | - | - | - | - |
| Dec 2024 | - | - | - | - | - | - |
| Jan 2025 | - | - | - | - | - | - |
| Feb 2025 | - | - | - | - | - | - |
| Mar 2025 | - | - | - | - | - | - |
Camp De Mar Summary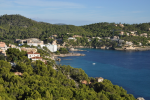 Camp de Mar holidays take you to a relaxed, family-friendly resort on the south west of Majorca. Built around a small bay, Camp de Mar has a rather an exclusive feel with very high standards of both accommodation and service. It has a lovely sheltered, sandy beach ideal for those with young children and the crystal waters are warm and shallow. If are looking for a guarantee of sun in a tranquil area, Camp de Mar holidays are certainly worth considering.

Low cost airlines operate from regional airports so travel to Majorca is cheap, quick and trouble free. The holiday season lasts from April to October with temperatures soaring into the thirties at the height of the summer. The resort lies close to Palma and the airport so transfers are short.
 
Cheap holidays to Camp De Mar.

Cheap Camp de Mar holidays are very popular with families and couples from every age group. Young singles would find it was far too quiet in the evenings which is of course why it appeals to older groups. There are a few shops in the resort for essential holiday items. Serious shoppers should head for Palma where they can indulge themselves in the many boutiques, jewellers and craft and gift shops. The same can be said of eating as most visitors have their meals un their hotel and restaurants are in short supply. Don't dismiss the all-inclusive option as being too expensive as there are good deals to be had. Those with children who are constantly hungry and thirsty will find that snacks and drinks can leave a large hole in one's pocket. With an all-inclusive package, it is much easier to stay within budget.
Compare holidays today.

If you are looking for sun and relaxation in a very pleasant seaside resort then Camp de Mar holidays may be just the ticket. If the thought of trawling through web page after web page looking for the best deal does not appeal, try our simple search facility. You'll find over three dozen travel companies, including leading brands, competing for your custom. It is simple to use, and remember, competition brings out the best bargains. Our search facility enables you to see, at a glance, the Camp de Mar holiday that is the cheapest, and the one that offers the best value for money. It couldn't be easier. All you have to do to secure the holiday is make a phone call. As offers change daily, in order to avoid disappointment, you should ring today.
Camp De Mar Photos