Holidays to Greece - Low Deposits from £39
Greece Summary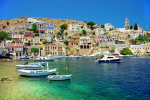 Whether it's a romantic getaway you're after, a fun-filled family holiday or a quiet break with close friends, Greece can certainly cater for whatever your preference. What's more, with the flight to Greece taking just roughly three hours, there's no reason why you shouldn't treat yourself to a cheap holiday in this charming country. So, what are you waiting for? Put your feet up and enjoy having a browse through our low cost deals and see what grabs your attention.
 
What does Greece have to offer?

Greece consists of lots of lovely little islands, each with their own individual charm, so no matter what type of trip you're after, there will definitely be an island that is perfect for you. For example, if you're looking for a more conventional summer holiday, perhaps have a peek at the Greek islands sprinkled through the Aegean and Ionian Seas, such as Kos and Corfu. These islands' boasts beautiful beach settings and idyllic atmospheres, guaranteed to alleviate all your troubles.
Appreciate the beautiful history of Greece

For those wishing to enjoy a holiday of relaxation whilst still taking in the ancient history of Greece, a visit to an island such as Rhodes, will absolutely suit your tastes. Having been home to the 'Colossus', one of the Seven Wonders of the World, Rhodes is an island full of historic value. Not only is there plenty of sights just waiting to seen and appreciated, but there is a huge number of museums which could offer you a totally different and exciting experience if you're getting a little bored of spending all your time lounging around on the beach…if that is even possible! What's more, if you have a sudden burst of energy, why not take a steady walk up the town of Lindos, where you can observe the riveting remnants of Lindos Acropolis and take in the entrancing sights of the tranquil town below.

However, if you're a more active type of holidaymaker, in which the sound of a little, or rather large challenge on your holiday sounds greatly appealing, Crete may be the perfect place for you to act out your inner adventurer. Here you can bear your boots and take a hike along the Samaria George, the longest ravine in Europe!
Is there a 'best' island?

Although every island in Greece has its own unique appeal, it must be said that this alluring magnetism is ubiquitous to Greece as a whole. Therefore, wherever you choose to go, you will not be dissatisfied. In fact, no matter how many times you visit Greece, the compelling appeal of this country will always leave you wanting more.

Of course, the weather certainly helps attract the holidaymakers year after year, with soaring weather forecasts from June all the way until August. The average temperature throughout this period is 31 degrees. For sun worshippers, a climate such as this may now have you frantically running to hop on the next plane! However, for those who don't like to bask in temperatures that reach these heights, consider a holiday to Greece in Autumn or Spring time.

So, does a cheap holiday to Greece sound like something you're after? How could it not! Why not take a browse through our low cost deals and see what takes your fancy…we can guarantee that Greece, in all its breathtaking glory, will certainly not disappoint!
Travel Tips
Interested in a holiday to Greece? Check out our handy guides below, giving you helpful advice and ideas that'll save you time and money when you're going on holiday.