Argassi Holidays
Argassi Holiday Deals
| Date | All Inclusive | Half Board | Self Cat. | Full Board | B&B | Room Only |
| --- | --- | --- | --- | --- | --- | --- |
| Dec 2023 | - | - | - | - | - | - |
| Jan 2024 | - | - | - | - | - | - |
| Feb 2024 | - | - | - | - | - | - |
| Mar 2024 | - | - | - | - | - | - |
| Apr 2024 | - | - | £169 | - | - | - |
| May 2024 | £246 | - | £181 | - | - | - |
| Jun 2024 | £449 | - | - | - | - | - |
| Jul 2024 | £612 | - | - | - | - | - |
| Aug 2024 | £573 | - | - | - | - | - |
| Sep 2024 | £366 | - | - | - | - | - |
| Oct 2024 | £371 | - | - | - | - | - |
| Nov 2024 | - | - | - | - | - | - |
| Dec 2024 | - | - | - | - | - | - |
| Jan 2025 | - | - | - | - | - | - |
| Feb 2025 | - | - | - | - | - | - |
| Mar 2025 | - | - | - | - | - | - |
Argassi Summary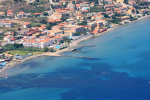 Argassi holidays transport you to the beautiful island of Zante, to a resort very close to the principle town of the same name. Zante, also known as Zakinthos, is located in the Ionian Sea off the west coast of mainland Greece.

Argassi has wide popularity and is favoured by families and couples, as well as young singles. Although the bars on the main road along the beach front provide lively evenings, you don't have to go far to find family-friendly venues.
 
Cheap Argassi Holidays.

Cheap Argassi holidays have much to recommend them. The wide bay has a long stretch of sand and fine shingle beach sloping gently into warm, clear water, ideal for paddling and for less confident swimmers. The more energetic visitor has a choice of water sports.

Whatever your idea is of a perfect holiday, be it total relaxation by the pool or on the beach; sunbathing by day followed by party nights; enjoying traditional cuisine and imbibing local wines; exploring the island and visiting major attractions; shopping in the town or in markets; a cheap Argassi holiday may be just the ticket.

A guarantee of sunny skies throughout its long summer season, is another great attraction. Accommodation is good and service is excellent with locals doing all they can to make your stay a pleasant one. The many restaurants cater for all tastes. Even if you are a fussy eater, do try the island's cuisine. With simple dishes perfectly cooked, they delight the palate.
When can I fly from?

With many regional airports flying direct to the island and with a flight time of a little over three hours followed by short transfers, getting to Zante has never been easier.

If  you want to travel to Argassi but find the thought of trawling through web page after web page looking for the best deal a little daunting, try our simple search facility. You'll find over three dozen travel companies, including leading brands, competing for your custom. It is simple to use, and remember, competition brings out the best bargains. Our search facility enables you to see, at a glance, the Argassi holiday that is the cheapest, and the one that offers the best value for money. It couldn't be easier. All you have to do to secure the holiday is make a phone call. As offers change daily, in order to avoid disappointment, you should ring today.
Argassi Photos