Stalis Holidays
Stalis Summary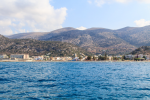 Stalis holidays transport you to a charming resort on Crete's north-eastern coast, sandwiched between green hills and sparkling blue sea. Holidays to Stalis are very popular with Irish and British families and couples.
Cheap Holidays To Stalis
With good hotels and apartments along the waterfront, our cheap Stalis holidays are considered great value for money. The long sandy beach sloping gently into crystal waters is the main attraction for families who come in their droves. Restaurants, tavernas bars and pubs cater for every possible taste, and there are shops for all your essentials. Holidays in Stalis offer complete relaxation, where you can bask not only in sunshine, but in the warmth of local hospitality. The season lasts from early spring until late autumn when temperatures rise from twenty to the low thirties centigrade. If you are seeking an early escape from our inclement weather or just want to be assured of summer sun, check out our low cost Stalis holidays and you'll be surprised by the savings you can make.
For further details, and to find our latest Stalis holiday offers, please use the search facility.
Stalis Photos