Kalithea Holidays
Kalithea Holiday Deals
| Date | All Inclusive | Half Board | Self Cat. | Full Board | B&B | Room Only |
| --- | --- | --- | --- | --- | --- | --- |
| Dec 2023 | - | - | - | - | - | - |
| Jan 2024 | - | - | - | - | - | - |
| Feb 2024 | - | - | - | - | - | - |
| Mar 2024 | £314 | - | - | - | £293 | - |
| Apr 2024 | £180 | £152 | - | - | £205 | - |
| May 2024 | £211 | £184 | - | - | £281 | - |
| Jun 2024 | £366 | £214 | - | - | £400 | - |
| Jul 2024 | £401 | £403 | - | - | - | - |
| Aug 2024 | £460 | £391 | - | - | - | - |
| Sep 2024 | £430 | £338 | - | - | - | - |
| Oct 2024 | £431 | £450 | - | - | £511 | - |
| Nov 2024 | £681 | £436 | - | - | £497 | - |
| Dec 2024 | - | - | - | - | - | - |
| Jan 2025 | - | - | - | - | - | - |
| Feb 2025 | - | - | - | - | - | - |
| Mar 2025 | - | - | - | - | - | - |
Kalithea Summary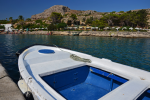 Kalithea holidays transport you to the north eastern tip of Rhodes, just seven kilometres from the capital. With a soft sandy beach and warm crystal waters, and a guarantee of summer sun, holidays to Kalithea are popular with those wishing to escape the vagaries of the British weather. Kalithea developed as a spa resort because of its healing spring waters and it has some of the most luxurious hotels on the island. Holidays in Kalithea can be as relaxing or as active as you wish as they provide many recreational activities both in the village and in the surrounding area.
Cheap Holidays To Kalithea
We have a number of cheap Kalithea holidays that are considered great value as our commitment to quality of service never falters. Although Kalithea nightlife is fairly low key, Rhodes Town with its plethora of bars and clubs is only a short taxi ride away so you can enjoy your evenings whatever your mood. If you are looking for an early spring break or want a guarantee of hot summer sun, surf through our Kalithea holiday deals and you may find one to suit.
For further information, and to find our latest Kalithea holiday offers, please use the search facility.
Kalithea Photos