Alton Towers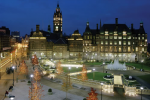 Alton Towers is the UK's most famous Theme Park located in Staffordshire and only 16 miles from Stoke On Trent.










Alton Towers Theme Park...
2011 Dates and Times:
Alton Towers theme park is open daily from the 26th of March until the 6th of November.
First admission is at 9.30am and the rides open at 10am closing between 5pm & 7pm.
Rides...
Alton Towers Theme park has a ride for everyone please find full list of rides in the park:
Thrill Rides...
Thirteen - The Blade - Nemesis - Rita - Submission - Air - Enterprise - Oblivion - Ripsaw.
Laughs & Frights..
Congo River Rapids - Hex - Sonic Spinball - Marauders Mayhem - Haunted Hallow - Duel - Runaway Mine Train - The Flume - Battle Galleons.
Young Fun...
Peugot Driving School - Wobble World - Frog Hopper - Twirling Toadstool - Berry Bish Bash - Charlie and the Chocolate Factory the Ride - Squirrel Nutty Ride - Gallopers Carousel - Heave Ho - Riverbank Eye Spy - Old MacDonalds Tractor Ride - Dung Heap - Doodle Doo Derby - Old MacDonalds Singing Barn.
Other Attactions...
The Towers- The Gardens - Skyride - Live Shows.
Waterpark...
Boasting hundreds of fantastic interactive water features, from lazy rivers and crazy cannons to the sensational speed of the Master Blaster water rollercoaster, this Caribbean lagoon offers gallons of excitement for kids of all ages, and is open all year round.
Alton Towers Hotel...
This unique hotel is themed around the incredible explorer Sir Algenon, who has made the Alton Towers Hotel his home. There are plenty of fun and quirky features to discover, including his amazing flying ship which has crash landed right in the middle of the Hotel. Wake up in our explorer-themed bedrooms, ready for your next adventure.
Splash Landings Hotel...
Offering a bright and tropical taste of the Caribbean, the sun shines every day in this crazy Caribbean themed hotel! After a busy day relax in Ma Garrita's bar, with superb views overlooking the Waterpark and fabulous entertainment into the evening. Splash Landings Hotel offers the perfect Caribbean getaway without stepping onto a plane.
Call UlookUbook now on
0800 091 1813