Bali Holidays
Bali Holiday Deals
Sorry, we have no offers to display for this destination.
Bali Summary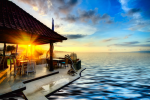 Bali is known as the spiritual island of Indonesia. Since the fourteenth century it has been a Hindu island and is home to thousands of temples. Bali holidays offer a level of tranquility that is rarely found elsewhere. Lying in the Indian Ocean, the island has a wonderful landscape with mountains and valleys, lakes, rivers and waterfalls, tropical forests and rice fields, pastures with wild orchids, and an active volcano, Gunung Batur.

One thing that hasn't been mentioned, and it is the reason most visitors book a cheap Bali holiday, is the beach. With fine silver sands framed by palms, and seas that are clear and warm, Bali beaches are almost beyond compare. Lie back and soak in the sun's rays and relax.
 
Plenty to see and do in Bali.

Feeling more active? Try your hand at the many water sports that are offered at the larger resorts. The clarity of the water is ideal for those who enjoy snorkelling and diving, and there is a wide variety of marine life. The waves at Kuta Beach attract surfers. Away from the beach, Bali holidays provide many recreational activities and, with its rich culture, sightseeing opportunities abound. You can go white water rafting on certain rivers, take jeep safaris inland, visit the Gitgit waterfall in the north of Bali, or the Botanical Gardens in Bedugal. There are of course many fine temples. One of the most famous is the Tanah Lot Sea Temple that is perched on a rock close to the shore.
High Class Accommodation.

Bali holiday accommodation reaches high standards and service is first class. Many of the larger hotels offer the famous Bali Spa treatments. Traditional cuisine is a fantastic blend of spices and culinary influences from Asia and the Far East. International foods are also widely available. There are many opportunities for shopping with everything from modern malls to market stalls. Popular purchases include silks and locally crafted batik items and carved wooden goods. Nightlife can be as active or as relaxed as you wish as there are venues catering for all moods and for every age group.

If you feel the allure of this mystic island hard to resist, and would like a cheap Bali holiday but can't face the arduous task of trawling through web page after web page trying to find the best deal, try our simple search facility. You'll find over three dozen travel companies, including leading brands, competing for your custom. It is simple to use and remember, competition brings out the best bargains. Our search facility enables you to see, at a glance, the Bali holiday that is the cheapest, and the one that offers the best value for money.  All you have to do to secure the holiday is make a phone call. To book the best deal, and to avoid disappointment, ring today.
Bali Photos