Banff Holidays
Banff Holiday Deals
Sorry, we have no offers to display for this destination.
Banff Summary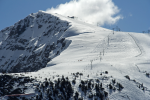 Banff ski holidays take you a to one of the best ski resorts in the world. Located in the Canadian Rockies, Banff has much to recommend it. At an altitude of fifteen hundred metres and with the highest skiing at three thousand metres, Banff guarantees snow cover throughout the season which extends from December to mid April. The close proximity of three resorts, Lake Louise, Sunshine village and Mount Norquay, which are reached via a complimentary bus for those with a tri area lift pass, gives a total of two hundred kilometres of pistes. With such variety, all levels of ability can enjoy a cheap Banff ski holiday. Boarders have a choice of two snow parks.
 
High standards of hospitality.

The resort provides first class accommodation and standards of service are high. With a wide choice of restaurant serving everything from a fast snack to international cuisine, all food preferences and budgets are accommodated. There is good provision of shops with malls and specialist stores. Although the nightlife is the liveliest in the area, it nevertheless is fairly low key. With a Banff ski holiday you are assured of great skiing as well as a range recreational activities. You'll find dog sledging, snow mobiling, ice skating and ice canyon walking, to name but a few.
Search today.

If you fancy a Banff ski holiday but find the thought of trawling through web page after web page looking for the best deal more onerous than reaching the slopes without a ski lift, try our simple search facility. You'll find over three dozen travel companies, including leading brands, competing for your custom. It is simple to use, and remember, competition brings out the best bargains. Our search facility enables you to see, at a glance, the Banff ski holiday that is the cheapest, and the one that offers the best value for money. It couldn't be easier. All you have to do to secure the holiday is make a phone call. As offers change daily, in order to avoid disappointment, you should ring today.
Banff Photos