Egypt All Inclusive Holidays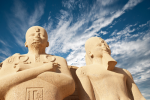 All inclusive holidays in Egypt offer a wealth of experiences in a land filled with antiquities and with a choice of coastlines, mountains and deserts, interesting cities and stunning resorts. Whether you want to chill out on sun-bleached beaches or dive among brilliant coral reefs, visit the pyramids or go trekking in the mountains, we have all inclusive holidays in Egypt to suit. The Red Sea Coast is ideal for water sports enthusiasts and is particularly popular with divers who are rewarded by crystal clear waters teeming with multicoloured marine life. Although all inclusive holidays in Egypt offer great value for all, they have special appeal for families who would otherwise spend a fortune on soft drinks, ice creams and snacks for their ever hungry offspring. They help to keep the holiday budget on track. Some water sports and children's activities are generally included in the price. If you are seeking winter sunshine you may find that our bargain all inclusive holidays in Egypt are just the ticket. They take you to superb resorts where the standard of accommodation and service is very high and the recreational facilities and sightseeing opportunities are wide ranging. If you are looking for cheap all inclusive holidays in Egypt, our last minute deals may fit the bill. From cultural visits to Egypt's unique historic monuments to Nile cruises, and from water sports to camel safaris, you'll find our all inclusive holidays in Egypt have broad appeal.
To find further details and to view our best all inclusive holidays in Egypt, please use the search facility.