Egypt Bargain Holidays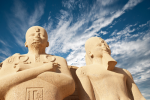 Bargain holidays in Egypt give those with a limited budget, the opportunity to visit this fascinating country in Northern Africa. It is a country of contrasts with coastlines and deserts, archeological sites and captivating cities. With long hot summers and warm winters, bargain holidays in Egypt can be enjoyed at any time of year. The Red Sea Coast has glorious sun-bleached sands gently washed by the clearest of waters with stunning coral reefs, home to thousands of fish. This area is particularly popular with divers. Our bargain holidays in Egypt also appeal to those interested in ancient history as the country is studded with archaeological sites including the amazing pyramids. Whatever your interests you'll find one of our bargain Egypt holidays to suit. If you choose a late deal or decide to take accommodation allocated on arrival, you are likely to get the best of our bargain Egypt holidays. They always offer good value for money as our standards remain high regardless of price. If you are on a tight budget and fancy a trip down the Nile, a camel safari into the desert, or water sports in the Red Sea, check out our bargain Egypt holidays. You'll find they won't break the bank.
To discover further details and to view our latest bargain holidays in Egypt, please use the search facility.