Marbella 3* Self Catering NOW SOLD OUT
4* Pyr Marbella, Marbella, Costa Del Sol

NOW SOLD OUT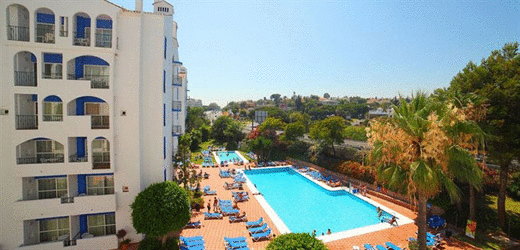 Highlights...
All-suites hotel
Save up to 31%
Hotel Overview...
The Hotel Pyr Marbella is a first-class, all-suites hotel located in Puerto Banus, one of the most important and bustling marinas of the world. This hotel offers enjoyable holidays within walking distance of beaches, surrounded by numerous internationally renowned golf courses. It is close to the famous Casino of Marbella and a very short distance from an outstanding shopping centre. The Pyr Marbella is situated on Europe's most southernmost coastline, six kilometres from Marbella and between the airports at Gibraltar and Malaga.
Food, Drink and Entertainment: Coffee Shop, Snack Bar, Poolside Snack Bar (open only in summer season), Lounge Bar.
For the Kids: Childrens' Swimming Pool.
Additional: 24 Hour Reception, Foreign Exchange, Golf Hospitality Desk.
Local Tips: The Pyr Marbella is situated on Europes most southern coastline, 6 km from Marbella. The airports of Gibraltar and Malaga are approximately 60km away. The most attractive places in Andalucia are all within distance by car - Seville, Granada, Cordoba, Ronda, Tangiers and the ski slopes of Sierra Nevada.
Swimming pool, 1 childrens' pool, tennis courts, paddle tennis court.
The Pyr Marbella Apartments consist of 319 studios of which feature bedroom with single/double beds, a lounge/dining area with 2 sofa beds, kitchenette, satellite TV, bathroom and most rooms have a balcony.
NOW SOLD OUT
Check our search for availability
Share This Deal