Gran Canaria All Inclusive Holidays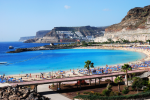 All inclusive holidays in Gran Canaria take you to an island that possesses qualities to satisfy all visitors. They can be as relaxing or as active as you wish as there are many sporting opportunities and plenty of tourist attractions. Although our all inclusive holidays in Gran Canaria can be taken at any time of year, they are very popular with those seeking an escape from the dark dreary days of winter. With pleasant summer temperatures rarely exceeding thirty and warm winters they are ideal for those who dislike extremes of temperature. All inclusive holidays in Gran Canaria have wide appeal but they are particularly attractive to families with children who demand to be fed and watered throughout the day, as all food and drinks are included in the price. It is therefore much easier to keep within the holiday budget. If you are looking for cheap all inclusive holidays in Gran Canaria, our last minute deals may fit the bill. They offer great value as accommodation and service are first rate and the superb cuisine caters for all. All inclusive holidays to Gran Canaria offer a host of leisure activities and sightseeing opportunities with many child-centred tourist attractions. With very low taxes, Gran Canaria is a shoppers paradise. There are malls, boutiques and markets galore. For a stress free break on a beautiful island, book an all inclusive holiday in Gran Canaria, and enjoy first class comfort and service.
For further information and to view our best all inclusive holidays in Gran Canaria, please use the search facility.