Low Cost holidays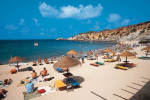 Although times are tight, recent statistics show that Brits aren't scrimping on their travels and are instead scouring the internet for the best deals out there. The savvier your research, the easier it is to snag a luxury escape for the price of a budget break.

One of the best ways to save money while away is by taking advantage of the deals offered in the majority of popular holiday resorts.

Ideal for those that want to enjoy their travels without worrying about spending too much, many all inclusive holidays offer unlimited food and drink, with everything from local cuisine to a good old burger and chips!

Another money saver is to vary when you go. Obviously, the peak summer months will be more expensive than the winter period. Travelling in the spring or autumn can sometimes save you a considerable amount.

Many of the popular destinations boast year-round warm weather too, so you can head to the Balearics during the off-season, and experience the fabulous Mediterranean climate without the crowds of summer tourists.

If you're prepared to travel further afield for a cheap stint in the sun, why not head to Egypt? Even outside of peak holiday season, the resorts boast fantastic facilities and hot summer sun at an excellent price.

From getting the best short break holidays to comparing the best restaurant prices, a cheap break doesn't mean you have to skimp on the quality.

Browse our low cost holidays and see how much you can save with Holiday Discount Centre.
Share This Deal