Olu Deniz Holidays
Olu Deniz Holiday Deals
| Date | All Inclusive | Half Board | Self Cat. | Full Board | B&B | Room Only |
| --- | --- | --- | --- | --- | --- | --- |
| Dec 2023 | - | - | - | - | - | - |
| Jan 2024 | - | - | - | - | - | - |
| Feb 2024 | - | - | - | - | - | - |
| Mar 2024 | - | - | - | - | - | - |
| Apr 2024 | £263 | - | - | - | - | - |
| May 2024 | £772 | - | - | - | £469 | - |
| Jun 2024 | - | - | - | - | - | - |
| Jul 2024 | - | - | - | - | - | - |
| Aug 2024 | - | - | - | - | - | - |
| Sep 2024 | - | - | - | - | - | - |
| Oct 2024 | - | - | - | - | - | - |
| Nov 2024 | - | - | - | - | - | - |
| Dec 2024 | - | - | - | - | - | - |
| Jan 2025 | - | - | - | - | - | - |
| Feb 2025 | - | - | - | - | - | - |
| Mar 2025 | - | - | - | - | - | - |
Olu Deniz Summary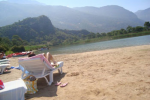 Olu Deniz holidays take you to a picturesque valley which faces the aquamarine water of the Mediterranean and is surrounded by pine clad mountains. Located in a conservation area, tourism has failed to mar the beauty of the resort and there are no high rise hotel complexes. Holidays to Olu Deniz can be taken from early spring to late autumn with the temperatures rising to the mid thirties at the height of the summer. The lagoon here, which lies in the National Park, is famous for colour of its water and is one of the most photographed beaches in Turkey.
Cheap Holidays To Olu Deniz
Holidays in Olu Deniz have wide appeal with families delighting in the sand and sea and couples of all ages enjoying the charming village atmosphere. We have a number of cheap Olu Deniz holidays that may interest those seeking a guarantee of sunshine by the sea. With accommodation providing for every comfort, our low cost Olu Deniz holidays offer great value for money.
For further details and to find our latest Olu Deniz holiday offers, please use the search facility.
Travel Tips
Fancy a holiday to Olu Deniz? Take a look at our handy guides below:
Olu Deniz Photos