Port El Kantaoui Holidays
Port El Kantaoui Holiday Deals
| Date | All Inclusive | Half Board | Self Cat. | Full Board | B&B | Room Only |
| --- | --- | --- | --- | --- | --- | --- |
| Dec 2023 | £93 | £151 | - | £283 | - | - |
| Jan 2024 | £92 | £151 | - | £276 | - | - |
| Feb 2024 | £101 | £150 | - | £280 | - | - |
| Mar 2024 | £102 | £150 | - | £295 | - | - |
| Apr 2024 | £126 | £150 | - | £368 | - | - |
| May 2024 | £145 | £150 | - | £378 | - | - |
| Jun 2024 | £191 | £224 | - | - | - | - |
| Jul 2024 | - | - | - | - | - | - |
| Aug 2024 | - | - | - | - | - | - |
| Sep 2024 | - | - | - | - | - | - |
| Oct 2024 | - | - | - | - | - | - |
| Nov 2024 | - | - | - | - | - | - |
| Dec 2024 | - | - | - | - | - | - |
| Jan 2025 | - | - | - | - | - | - |
| Feb 2025 | - | - | - | - | - | - |
| Mar 2025 | - | - | - | - | - | - |
Port El Kantaoui Summary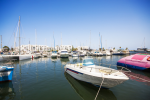 Located in the mediterranean with a moorish flavour the resort has two fantastic golden sandy beaches. This purpose built resort offers a wide choice of high class hotels and a wonderful marina where the jet set moor their boats. You will also a wide choice of bars and restaurants located around the marina. A trip to the medina is a must to pick up that bargain from one of the many boutiques and stalls. The resort also boasts not one but two 18 hole golf courses for your enjoyment.  
 
Cheap Port El Kantaoui Holidays
With a wide selection of wonderful 4 and 5 Star hotels Port El Kantaoui offers high standards of accommodation at affordable prices.
Our suppliers offer cheap holidays to Port El Kantaoui from a choice of UK airports so why not search for your holiday to Port El Kantaoui today!
For more information, and to see our latest Port El Kantaoui holiday offers, please use the search facility.
Port El Kantaoui Photos