Puerto Vallarta Holidays
Puerto Vallarta Holiday Deals
Sorry, we have no offers to display for this destination.
Puerto Vallarta Summary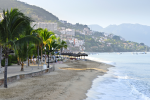 Puerto Vallarta holidays can be taken at any time of year. Located on Mexico's Pacific coast it enjoys warm sunny weather. Even during the rainy season, from June to October, the days are usually sunny with clouds appearing in the late afternoon. Holidays in Puerto Vallarta are ideal for families, beach lovers and golfers. With a variety of sandy beaches and sheltered coves offering relaxing days in the sun, water sports for the more active holidaymaker as well as several golf courses, there is plenty to do. Although holidays to Puerto Vallarta are very popular and it is a thriving resort, it nevertheless manages to retain a traditional atmosphere.
Cheap Puerto Vallarta Holidays
Apart from lazy days by the sea, our cheap Puerto Vallarta holidays can soon have you swimming with dolphins or humpbacked whale spotting. There are many land based attractions which include the Canopy Adventure where you travel through tropical treetops and the Splash Waterpark, enjoyed by adults and children alike. We have a selection of low cost Puerto Vallarta holidays which can soon whisk you away for a Pacific seaside holiday where the accommodation is good, the cuisine caters for all tastes and it has a fairly lively nightlife. For more information and to find our latest Puerto Vallarta holiday bargains, search now.
Puerto Vallarta Photos