Roquetas De Mar Holidays
Roquetas De Mar Holiday Deals
Sorry, we have no offers to display for this destination.
Roquetas De Mar Summary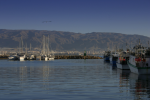 Roquetas de Mar holidays take you to the sunny south east coast of Spain on the Costa Almeria. It is the driest part of Spain and enjoys long hot summers and mild winters. Holidays to Roquetas de Mar can therefore be taken at any time of year, with the summer being the busiest. With three kilometres of sand and shingle beach lapped by warm Mediterranean waters, it is no surprise that holidays in Roquetas de Mar appeal to families. There is plenty to entertain children including a water park, road train and mini-golf.
Cheap Holidays To Roquetas De Mar
We have a number of cheap Roquetas de Mar holidays that offer surprising value, especially for families. Hotels and apartments provide good accommodation and numerous restaurants cater for all tastes. Shopping is adequate and there is also a weekly market. Although there are one or two lively venues, Roquetas de Mar is not a resort that parties into the night. If you are seeking a relaxing break with a guarantee of summer sunshine, you may be tempted by our low cost Roquetas de Mar holidays. Since they are in great demand it is best to book early in order to avoid disappointment.
For further details and to discover our best Roquetas de Mar holiday deals, please use the search facility.
Roquetas De Mar Photos