Varna Holidays
Varna Holiday Deals
| Date | All Inclusive | Half Board | Self Cat. | Full Board | B&B | Room Only |
| --- | --- | --- | --- | --- | --- | --- |
| Dec 2023 | £275 | £146 | - | - | £121 | £103 |
| Jan 2024 | £224 | £122 | - | - | £104 | - |
| Feb 2024 | £244 | £168 | - | - | - | - |
| Mar 2024 | £299 | £203 | - | - | - | - |
| Apr 2024 | £127 | £119 | - | - | - | - |
| May 2024 | £104 | £100 | £102 | - | - | - |
| Jun 2024 | £274 | - | - | - | - | - |
| Jul 2024 | - | - | - | - | - | - |
| Aug 2024 | - | - | - | - | - | - |
| Sep 2024 | - | - | - | - | - | - |
| Oct 2024 | - | - | - | - | - | - |
| Nov 2024 | - | - | - | - | - | - |
| Dec 2024 | - | - | - | - | - | - |
| Jan 2025 | - | - | - | - | - | - |
| Feb 2025 | - | - | - | - | - | - |
| Mar 2025 | - | - | - | - | - | - |
Varna Summary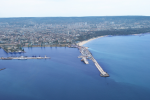 Varna is framed by sloping hills around a horse shoe shaped bay on the Black Sea coast of Bulgaria. A Varna holiday offers a guarantee of summer sunshine, sandy beaches and safebathing in tideless waters.
Cheap Varna Holidays
You may be pleasantly surprised by our range of low cost Varnia holidays which provide good accommodation in a choice of location. Holidays to Varna have something for everyone, from families who enjoy the beach and water sports enthusiasts who find a variety of pursuits to occupy their days, to those with an interest in the history of this old town. Holidays in Varna can be as lively or as relaxed as you wish as there are venues offering vibrant evenings while others, particularly on the waterfront, provide family friendly restaurants. Book a cheap Varna holiday and treat yourself to spa treatments in the town's thermal springs. Our Varna holiday bargains are very popular so book early to avoid disappointment. Search now to find our last minute Varna holidays.
Varna Photos