Es Cana Holidays
Es Cana Holiday Deals
| Date | All Inclusive | Half Board | Self Cat. | Full Board | B&B | Room Only |
| --- | --- | --- | --- | --- | --- | --- |
| Dec 2023 | - | - | - | - | - | - |
| Jan 2024 | - | - | - | - | - | - |
| Feb 2024 | - | - | - | - | - | - |
| Mar 2024 | - | £194 | - | - | - | - |
| Apr 2024 | £472 | £174 | - | - | £208 | - |
| May 2024 | £609 | £320 | - | - | £221 | - |
| Jun 2024 | £865 | £388 | - | - | £294 | - |
| Jul 2024 | - | - | - | - | - | - |
| Aug 2024 | £934 | - | - | - | - | - |
| Sep 2024 | £674 | - | - | - | - | - |
| Oct 2024 | £350 | - | - | - | - | - |
| Nov 2024 | - | - | - | - | - | - |
| Dec 2024 | - | - | - | - | - | - |
| Jan 2025 | - | - | - | - | - | - |
| Feb 2025 | - | - | - | - | - | - |
| Mar 2025 | - | - | - | - | - | - |
Es Cana Summary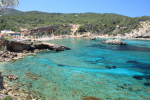 Es Cana holidays take you to a pretty resort on the east coast of Ibiza. It has grown beyond recognition from its humble roots as a fishing village which is how it remained until the advent of package holidays went development began. Its popularity lies in its long sandy beach with its shallow waters and its relaxed atmosphere. As well as the traditional whitewashed dwellings, there are hotels and apartment that are several storeys high. They can't be described as high-rise but they nevertheless look out of place. Still, it is a tourist area and the buildings provide high standards of both accommodation and service.
 
Holidays to Es Cana from your local airport.

With low cost flight to the island from many regional airports, travel to Es Cana has never been cheaper or easier. Take an early morning flight from an airport near you and you can breakfast under the often leaden skies of Britain and be basking in sunshine while having lunch. The holiday season begins in April and lasts until the end of October with temperatures rising into the low thirties in the height of summer.

If you are looking for sun, sand and sea, a cheap Es Cana holiday will fit the bill. The resort lies around a wide, sandy, crescent shaped bay. With the clearest of shallow waters, young children can paddle in safety and novice swimmers will gain confidence. Although the waters are safe, children of course must be supervised at all times. A variety of water sports are available.  Some are merely for paddling gently along the shore while others suit the more energetic holidaymaker. If you wish to explore other areas or want to take a trip to Ibiza Town, take a boat rather than the bus as you get great views of the town from the sea.

Those who enjoy shopping will be thrilled by the Hippy market which takes place every Wednesday and is famous throughout the island. Here you can find all manner of goods and try your hand at haggling over prices. Nightlife in the resort is low key reflecting its popularity with families and couples. Those who want to experience the wild side of the island can take a taxi to Santa Eulalia or the capital where they can dance until dawn. Es Cana's numerous restaurants cater for even the fussiest eaters with everything from fine dining to fast foods.
Compare bargains to Es Cana today.

If you find a cheap Es Cana holiday appealing and you wish to avoid the tedious task of trawling through web page after web page trying to find the best deal, try our simple search facility. You'll find over three dozen travel companies competing for your custom. It is simple to use and remember, competition brings out the best bargains. Our search facility enables you to see, at a glance, the Es Cana holiday that is the cheapest and the one that offers you the best value for money.  All you have to do to secure the holiday is make a phone call. To book the best deal, and to avoid disappointment,  ring today.
Es Cana Photos