Fuerteventura Holidays
Fuerteventura Holiday Deals
Fuerteventura Summary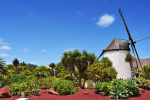 Lying in the Atlantic off the west coast of North Africa, is Fuerteventura one of the most popular of the Canary Islands. This group of Spanish islands are volcanic in origin and many have dark volcanic beaches or have sand imported from Africa.
Beach life.
Like the other island's Fuerteventura's rocky volcanic landscape is imposing, but it does have sandy shores. With soft sand and clear waters, Fuerteventura holidays attract beach lovers of all ages. The island appears to have been the least changed by tourism and this adds to its appeal. If you wish to relax in sunshine, interspersed with water sporting activities or a little sightseeing and shopping, cheap Fuerteventura holidays may be just the ticket. The beaches in the west attract wind surfers  and sailors as the seas are heavier there with atlantic swells.
Attractions in Fuerteventura.
Apart from water sports and sandy beaches, Fuerteventura attractions include a water park, a small zoo and botanical gardens, as well as nature reserves. Jeep safaris are popular as well as fishing and dolphin spotting trips. Nightlife on the island is fairly laid back although there are clubs in Corralejo where you can party through the night. Fuerteventura holidays offer a range of good accommodation and service. Restaurants serve a variety of menu that caters for all. Do try traditional island fish dishes and you won't be disappointed. In common with all Canary Islands, there are many opportunities for shopping.
Since the climate of the Canary Islands varies little between summer and winter, you can take a delightful break at any time. Fuerteventura boasts three hundred and twenty days of sunshine each year so it would be a very unlucky tourist indeed who didn't enjoy several days of sun.
If a Fuerteventura holiday appeals and you wish to take the drudgery out of finding one that offers the best value, use our search facility which has almost three dozen travel companies competing for your custom. And competition brings bargains. Our search facility enables you to see, at a glance, the Fuerteventura holiday that is the cheapest. All you have to do to secure the holiday is make a phone call. To book the best deal of the day, don't delay.
Travel Tips
Interested in Furteventura? This is where you'll find handy, helpful advice and ideas that'll save you time and money when you're going on holiday.
Fuerteventura Photos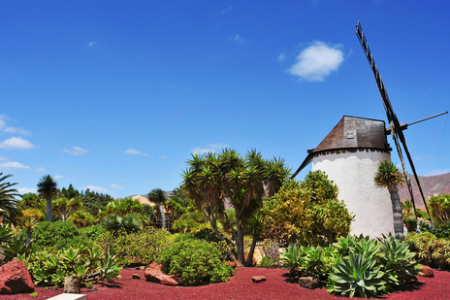 Canary Islands Destinations