Hidden Holiday Gems
The mainstream package holiday market has seen destinations throughout the world welcome UK holidaymakers to fun, lively, family friendly & chilled laid back resorts, although not all at the same time! However, not all holidaymakers are looking to stay in popular holiday resorts such as Benidorm in Spain, Playa de las Americas in Tenerife, Paris in France or Faliraki in Greece. There are hundreds of resorts all over the world that are hidden away and only visited by a few tourists. There are some resorts which are popular to tourists from other countries that wouldn't even come to the forefront of your mind to visit for a holiday.
If you are looking for somewhere a little different but still looking for that 'wow factor', here are 7 of our best hidden holiday gems for you to choose for your next holiday destination.
Boa Vista Island, Cape Verde
Boa Vista island in Cape Verde has glorious natural beauty, including amazing beaches like the Praia da Chave, where the sun shines bright like a diamond and the ocean hosts conditions perfect for snorkelling and dolphin watching. Boa Vista also offers a rich and diverse amount of culture; traditional Creole morna music can be heard in the bars and restaurants where you can eat delicious Portuguese/African fusion food. 
Copenhagen, Denmark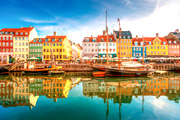 Copenhagen consistently appears on lists of the best places to live and visit in Europe, and if you're looking for a relaxing and 'green' city break, it's one of the best destinations around. In recent years, the Danish capital has embraced cycling, with its introduction of an eleven-mile long bicycle lane stretching through the city, and biking is a great way to explore the city. Copenhagen has a great atmosphere, some of the best restaurants around (including the world-renowned NOMA) and an abundance of history and culture. 
Costa Almeria, Spain
Part of the beautiful region of Andalucia, Almeria's location on the south coast provides year-round sunshine and warmth. With its lush beaches like the Playa de Mónsul, wildlife parks, castles and movie set-landscapes, the area can appeal to any kind of holidaymaker. Costa Almeria is within close proximity of some of the worlds most beautiful buildings, including the Alhambra palace in Granada. If you just want to relax by the pool, luxury beachfront hotels can be found in abundance.
Formentera, Balearic Islands
20km south of Ibiza, you'll find the blissful island of Formentera. Lesser known than its northern neighbour, the island is equally as beautiful as Ibiza, but Formentera has a more peaceful atmosphere and is a perfect destination for a romantic couple break. There are several hostels and apartments available across the island, along with the resort area of Es Pujols. Here you'll find great Mediterranean restaurants like Bocasalina. 
Hvar, Croatia
The port town and Island of Hvar has a similar look to the hugely popular Dubrovnik, but Hvar has a more subdued atmosphere during the day and a big party atmosphere in the evening. Head to Hula Hula Beach Bar for some cocktails at sunset, followed by a dance at the Pink Champagne Hvar, which opens around 2 am. The town is the hottest spot in Croatia, with average temperatures in peak summer months reaching around 25 °C. The coastline is a highlight of the town; head to Dubovica Beach - one of the best in Europe - where you can soak up the rays. 
Lake Garda, Italy
Lake Garda is one of the most beautiful places on the list, with mountainous landscapes throughout Italy's largest lake. The lake is so large, the areas surrounding it vary depending on how far north or south you are. Head to the south to get a taste for a more gentle and flat -  this is where renowned poets and writers from history have loved to visit. The northern areas - especially the town of Riva del Garda - are perfect for hiking and adventure holidays. 
Los Cabos, Mexico
Set on the southern tip of Mexico's state Baja California Sur, Los Cabos has become a hugely popular holiday destination due to its stunning coastlines. The Cabo Pulmo National Park is a particular highlight, where you'll be able scuba dive and witness everything from turtles to sea lions in the crystal clear waters.  The nightlife in Los Cabos is growing each year, but its most famous club, Cabo Wabo Cantinauts (opened by Van Halen singer Sammy Hagar - is still one of the best places to have a few tequilas and party the night away. 
These are just a small selection of holiday destinations that you may not be aware of. For more destinations like these, why not call one of the friendly travel agents who can recommend that perfect holiday gem that suits your needs by searching today.
Share This Deal