City Breaks to Paris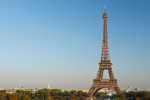 Paris Breaks have great appeal for couples as the city is portrayed as the most romantic place in the world. Whether or not this is true, Paris certainly has much to offer visitors. With so many famous landmarks, beautiful churches, grand museums and galleries, as well as parks and gardens to be explored, you'll need to plan your visit carefully. Although Breaks to Paris can be taken at any time of year, April to October are the busiest months. The exception to this is the fourteenth of February, when those in love flock to the city of romance.
Cheap Paris Breaks
We have a surprising number of cheap Paris Breaks ready to whisk you away to the Eiffel Tower, the Louvre, Notre Dame and the Arc de Triomphe, to name just a few of the top twenty attractions. These low cost Paris Breaks offer great value as our commitment to quality and service is never in doubt. With comfortable accommodation and restaurants catering for all tastes, our Paris Break deals are sure to please. Whether you are looking for a cultural break, a shopping spree, or just want to enjoy the beauty of the city, one of our last minute Paris Break will surely fit the bill.
Check out our handy guides below on Paris: