Istanbul Breaks
Istanbul Breaks
Sorry, we have no offers to display for this destination.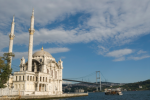 Istanbul City Breaks take you to the place where east meets west, where Europe meets Asia, between the Black Sea and the Sea of Marmara. Once the capital of the Byzantine and Ottoman Empires, Istanbul has an unparalleled historical heritage, evidence of which can be seen in its architecture. Istanbul is a huge city so if your stay is short you will have to prioritise your sightseeing. There are so many museums and galleries, mosques and churches, palaces, public buildings and monuments, that you'd be hard-pressed to do them justice. To help you with this task you may consider taking an organised tour that gives visitors a comprehensive sightseeing introduction to this fabulous city. An eight hour tour will take you to the most famous of the historic sites, including the Blue Mosque, the basilica Hagia Sophia, the Topkapi Palace, as well as to the Hippodrome, and the Grand Bazaar, one of the largest covered markets in the world.
Our cheap Istanbul City Breaks can be taken from early spring until late autumn as the tourist season is fairly long. Be aware that at the height of the summer, temperatures can rise into the thirties. Istanbul has a romantic reputation and as such attracts couples of all ages. Those with historical or architectural interests will be spellbound by the splendour of many of the buildings in Sultanahmet, the old town. Many visitors take an evening cruise on the Bosphorus as views of the illuminated city are breathtaking.
Where Europe meets Asia
Istanbul is truly a mecca for shoppers. Apart from the wonderful bazaar, there are several shopping malls. These include Metrocity, Akmerkez, and Cevahir which claims to be the largest mall in Europe. Gastronomes will be delighted by the huge variety of restaurants serving food from around the globe. There are eateries to suit every budget from small bistros serving delicious local fare such as the stuffed peppers and vine leaves, casseroles and kebabs, to restaurants serving international cuisine. Likewise, Istanbul nightlife caters for all moods. From romantic to party, you'll find venues to suit.
If you are looking for a vibrant city where the old sits comfortably with the new, where there is plenty to see and do, take a look at our cheap Istanbul City Breaks, and you'll surely find a holiday to fullfil your dreams. You can rest assured that quality and service are never compromised. To avoid disappointment, use our search facility and book today.
Want to know more about Istanbul?