Krakow 4-Star Christmas Market Break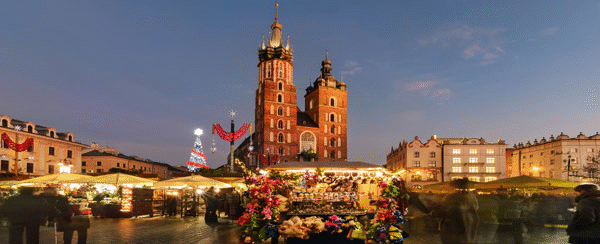 Krakow Christmas Market...
Every year Krakow Xmas markets attract thousands of visitors looking to soak up the traditional Polish holiday atmosphere.
A must see is the famous festive market in Krakow's Rynek central square. Soak up the seasonal atmosphere and grab some fabulous stocking fillers. Explore the superb market stalls offering unique gifts including handcrafted by local artists and tradesmen.
Try out the fabulous local fayre and enjoy everything from speciality sausages and famous dumplings to mulled wine and cherry vodka.
Galaxy Hotel...
Overlooking Grzegorzki, a district steeped in history, tradition, and unmatched charm, the deluxe 4-star Galaxy Hotel is a fantastic base for a city break to Krakow.
Situated in the Old Town, Galaxy Hotel is just 10 minutes walk from the Kazimierz Jewish District, full of atmospheric pubs and cafés. The walk to the Main Market Square takes only 25 minutes, while the Wawel Castle is 20 minutes walk away from the hotel.
Onsite guests can enjoy the superb Andromeda Restaurant, overlooking the Vistula River and serving a wide variety of international cuisine. There's also a relaxing spa & fitness centre boasting a wide variety of beauty treatments and an indoor pool.
The Galaxy Hotel in Krakow offers 205 contemporary guest rooms with modern amenities. All rooms feature private bathroom, 32-inc LCD satellite tv, fridge, air conditioning, tea & coffee supplies, lounge area and free WiFi.


Share This Deal