Langkawi Holidays
Langkawi Holiday Deals
Sorry, we have no offers to display for this destination.
Langkawi Summary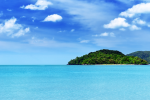 Langkawi is located in north west Malaysia in the Malaccan Straits. Langkawi holidays offer some of the best beaches in the island and ideal bathing conditions. Holidays to Langkawi can be taken at any time as the temperature rarely dips below thirty. Having an equatorial climate annual precipitation is high with most falling in September and October. Typically, you can expect sunny days with cloudy evenings.
Cheap Langkawi Holidays
Holidays in Langkawi, known as the jewel of Kedah, have wide popularity particularly among beach lovers. The island has many great beaches, the best being Pantai Cenang and Pantai Tengah. These stretches of very finewhite sand, the kind that doesn't stick to your skin, are bordered by coconut palms behind which are chalet type accommodation and hotels. The warm water with its prolific marine life is ideal for divers and snorkellers. Choose from our  fantastic selection of cheap Langkawi holidays and you could soon be heading for a little corner of paradise. With malls and market stalls, including a night market, providing good shopping, restaurants to suit all tastes and evenings that are lively, our low cost Langkawi holidays will keep you entertained. All our surprisingly cheap Langkawi holiday offers can be found in our search database.
Langkawi Photos