5-Star Las Vegas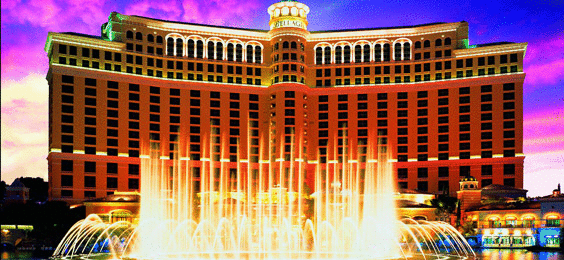 There is nothing like seeing them in person. The Fountains of Bellagio were destined to romance your senses. Take in a spectacular show of thoughtfully interwoven water, music and light designed to mesmerize its admirers. It is the most ambitious, choreographically complex water feature ever conceived and it's absolutely free for any visitor to enjoy. Step back, or find a comfortable perch to sit, and watch the dynamic performance set against the backdrop of the Las Vegas lavender sky. Each performance is unique in expression and interpretation so no matter how many times you have seen the Fountains, they always have more in store to wow you with. Fall in love with this unprecedented aquatic accomplishment as you enjoy an enchanting concert of opera, classical, Broadway and pop tunes.
When thinking of the many romantic places in Paris or Rome, London or Madrid, fountains immediately come to mind. The Fountains of Bellagio express the romantic spirit of the resort. The result of collaboration with WET Design is the most ambitious water feature ever conceived in terms of choreographic complexity and scale.
At Bellagio, more than a thousand fountains dance in front of the hotel, enhanced by music and light. The display spans more than 1,000 feet with water soaring as high as 460 feet into the air.
Entertainment...
Bellagio Conservatory & Botanical Garden: Enjoy our seasonal showcase of the most beautiful floral artwork custom-designed by Bellagio's incredible Conservatory team of horticulturalists and artists.
Fountains of Bellagio:The most famous performer in Las Vegas, tirelessly thrilling crowds with show after show, each one as magical as the last.
Bellagio Gallery of Fine Art:A masterpiece itself, Bellagio celebrates art with Las Vegas' finest exhibition venue.
Pools & Courtyards:The most exquisite pools and courtyards in Las Vegas.
Swimming pools...
Treat yourself to the romantic lure of a Mediterranean-infused al fresco poolside experience – unquestionably Las Vegas' most inviting pool area. Take a relaxing dip in refreshing azure waters. Five distinctive pool courtyard settings are yours for the taking. Spas, an exquisite garden vista café, private cabanas, and poolside massage treatments are also available to complete this outdoor oasis. Must be 14 years of age or accompanied by a parent or guardian of at least 18 years.
Eating and drinking...
LAGO by Julian Serrano: Small plates with big impact—that's what you'll find at LAGO, the first Italian restaurant from the James Beard Award-winning, Michelin-decorated Chef Julian Serrano.
Harvest By Roy Ellamar:A thoroughly modern dining experience awaits at Harvest, where Chef Roy Ellamar pairs market-fresh dishes with innovative preparation.
Fix Restaurant & Bar: Fix serves up fresh interpretations of American classics in an innovative, modern setting.
Todd English's Olives: Savor signature Mediterranean dishes, set against the stunning backdrop of Lake Bellagio.
Hotel Facilities...
Bellagio offers an award-winning beauty oasis with the singular goal of pampering you. Our Las Vegas spa & salon services will restore, revive and replenish you with a unique menu of international treatments in a luxurious 65,000-square-foot setting.
The Fitness Center is where state-of-the-art facilities converge with personal service. You'll find the latest equipment along with experts who will assess your long-term goals to help you implement an exercise regime tailored to you. Plus, there is a wide spectrum of classes to get your heart pumping. From running and cycling to stretching and strength training to power yoga and Pilates, you're sure to find your favorite way to break a sweat.
Experience an elegantly curated menu in the privacy of your room. Bellagio elevates room service to a whole new level of style and sophistication.
ellagio takes pride in offering only the finest quality and service for your in-room dining experience. Please contact us with any special requests or allergies. Vegan and Gluten-Free choices available.
Whether you are tying the knot, celebrating with your friends, or exploring Las Vegas, let our team of professionals create an experience your loved ones will surely remember. We provide an array of personalized touches to graciously accommodate your group event needs with reservations of 10 or more rooms.
Accommodation...
Enjoy the elaborate details of our One Bedroom Lakeview Suites, offering spectacular views of our iconic Fountains of Bellagio and lake. Pamper yourself in your open living and dining area, separate master bedroom and couples' baths, one featuring a steam shower, the other a soaking whirlpool tub. Customize your stay with mood lighting, individual climate controls and reading lights, automatic drape and sheer controls.


Share This Deal