Mitsis Norida Beach Hotel All Inclusive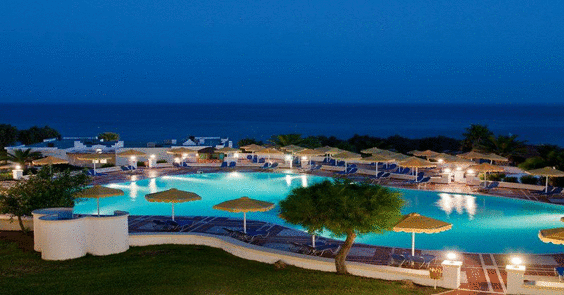 Highlights...
Children's Mini Club
2 Outdoor Swimming Pools
3 Restaurants & 5 Bars
Animation Team
Beach Front Hotel
Hotel Info...
Norida Beach Hotel is a high standard all-inclusive resort where the good service meets the hospitality and the original smile. Norida Beach Hotel in the island of Kos is the right choice for couples and families seeking quality accommodation in a quiet location that combines sea and mountain view. Totally renovated in 2012, Norida beach whether in the main Hotel or in one of 25 bungalow buildings all 455 comfortable and spacious guest rooms are carefully appointed and offer all the facilities of a 5-star resort.
Norida Beach Hotel is surrounded by immense gardens and is decorated with warm gentle colours, marble floor and wooden furniture. The magnificent view of the Aegean Sea and of the volcanic island of Nissiros will help you to relax while enjoying one of our nice cocktails in your balcony!
Location...
Kardamena, on the southeast coast of Kos, makes no apology for its party-hard attitude. It used to be a simple fishing village but now this town is the liveliest holiday spot you'll get outside of Kos Town – which by the way is only about half-an-hour away. These days it's all about Brits abroad enjoying the full line-up of bars and discos, then recharging their batteries on the local beach.
Room Info ...
Room Facilities: Twin bed with possibility for extra bed, Fully air-conditioned with individual control / Heating, Bathroom with bathtubs, Direct dial telephone, Mini fridge with refreshment center refilled every two days, Satellite TV, WiFi internet access (with extra charge), Balcony or terrace with furniture, Safe deposit box (with charge), Marble floor covering and bathroom.
Sports & Entertainment...
Norida Beach Hotel isn't like the world you came from! There are no schedules, deadlines or obligations. Instead, you have the freedom to awaken when you like, do what you like and socialize with whom you like. And just in case you're not sure what you like, we've got an endless menu of activities you're free to try. A multilingual animation team provides an exciting entertainment program throughout the day & night, with games, musicals, cabarets, sketches, shows, competitions, etc. Live music programs are offered daily on Casablanca Bar (adults only). A splendid open air theatre is located in the middle of the Mitsis World, between the 4 hotel complexes of Blue Domes Exclusive Resort & Spa, Norida Beach Hotel, Family Village Beach Hotel and Summer Palace. It can welcome up to 750 people and is also equipped with its own bar. It operates from 20:00 to 23:30.
Food & Drink...
La Principessa: The Main Restaurant serves American buffet breakfast from 07:00 to 10:00, and late continental buffet breakfast from 10:00 to 10:30. Lunch is served from 12:30 to 14:30 and a complete buffet dinner from 18:30 to 21:30.
All Inclusive
Meals:
La Pergola: Guests can also choose to take their lunch (12:15 to 14:30) in the tavern instead of the main restaurant. A variety of Greek and Italian specialties, such as spaghetti, mixed grill, gyros, etc. are offered. Indulge in the finest Dim Sum and authentic Chinese cuisine! Dinner from 18:30 to 21:30. Table reservations are necessary. Please contact the reception desk. A variety of hot and cold snacks, such as sandwiches, ice creams and pastries are served throughout the day and night in the Villagio Café and the Beach bar. Ice creams are available from 10:00 to 00:00.
Drinks:
Casablanca Bar: (adults only): 17:00 – 00:00, Beach Bar: 10:00 – 17:30, Nautilus Pool Bar: 10:30 – 17:30, Café Bar Villagio: 09:30 – 00:00. Navarone Bar: (adults only): 10:00 – 18:00


Share This Deal