Holidays to the Dominican Republic
Dominican Republic Holiday Deals
Dominican Republic Summary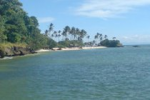 Dominican Republic holidays take you to one of the most stunning islands in the Caribbean. Its landscape gives you mountains and lakes, rivers and waterfalls, and of course the main attraction, wonderful beaches. Its popularity grows year on year as word spreads about its first rate accommodation, its welcoming people and its relaxed ambience. Cheap Dominican Republic holidays attract families, golfers, and couples of all ages. It is an island where couples choose to tie the knot on a romantic beach, sand glistening in the sunshine and dappled waters gently caressing the beach.
The best times to visit the Dominican Republic are between November and February and during July and August. This way, you avoid both the hurricane and the rainy seasons.
Cheap Dominican Republic Holidays.
Cheap Dominican Republic holidays offer exceptional value, particularly when you choose the all-inclusive option. These large resorts offer a great choice of food with both local and international dishes, thus pleasing the most conservative of palates. Nightlife is provided by the hotels and the bars and restaurants along the sea front. Holidays here can be as laid back or as active as you wish as the range of leisure activities is immense. Many are water based. Diving is a particularly rewarding pursuit as the seas are so fertile with a huge variety of exotic fish. In addition, there are wrecks to be explored. There are umpteen first class golf courses, day trips to nearby islands, dolphin and whale watching, tours to charming colonial towns and safaris inland. The list of tourist attractions goes on and on.
Don't delay and search today.
If a cheap Dominican Republic holiday appeals and you wish to avoid the tiresome business of trawling through web page after web page trying to find the best deal, try our simple search facility. You'll find over three dozen travel companies competing for your custom. It is simple to use and remember, competition brings out the best bargains. Our search facility enables you to see, at a glance, the Dominican Republic holiday that is the cheapest and the one that offers the best value for money.  All you have to do to secure the holiday is make a phone call. To book the best deal, and to avoid disappointment,  ring today.
Travel Tips
Fancy a trip to the Dominican Republic? Take a look at our handy guides below:
Dominican Republic Photos
Dominican Republic Resorts