Golf Del Sur Holidays
Golf Del Sur Holiday Deals
Golf Del Sur Summary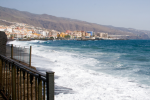 Golf de Sur holidays are, as the name suggests, a haven for golfers. Located fifteen minutes from Reina Sofia Airport on the south coast of Tenerife and within a short taxi ride of Playa de las Americas and Los Cristianos, holidays in Golf de Sur have much to offer visitors. Holidays in Golf de Sur offer upmarket accommodation, good restaurants and bars, and a small commercial centre. Holidays to Golf de Sur can be taken at any time of year as the island has mild winters and hot summers.
Cheap Holidays To Golf Del Sur
If your game is suffering and your handicap rising owing to inclement weather, you may find our cheap Golf de Sur holidays appealing. The resort is also popular with non-golfers who enjoy the tranquil atmosphere, the superior accommodation and the fine restaurants. Golf de Sur also offers many recreational activities other than golf and there are also a wide range of sightseeing opportunities. If you need a little sunshine and a charming place in which to relax, check out our low cost Golf de Sur holidays and you may find one to suit.
For further details and to find our last minute Golf de Sur holiday offers, please use the search facility.
Golf Del Sur Photos