Playa de la Arena Holidays
Playa de la Arena Holiday Deals
Playa de la Arena Summary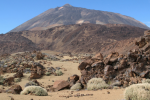 If you are seeking a relaxing break in pretty surroundings, without breaking the bank, you may wish to check out our cheap Playa de la Arena holidays. Clustered round the harbour and on the hill overlooking the bay, Playa de la Arena is located on the south western coast of Tenerife. Playa de la Arena holidays offer a peaceful retreat close to livelier resorts so that you can enjoy the benefits of their facilities without forfeiting the tranquillity of your chosen base. Holidays to Playa de la Arena are ideal for those seeking winter sun and they don't have to cost the earth.
Cheap Playa de la Arena Holidays
You'll be amazed by our range of low cost Playa de la Arena holidays ready to whisk you away from the dark, dank days of winter to bask in Canary sunshine. If the idea of lying by the pool bathed in sunlight, trying your hand at water sports or simply enjoying a change of cuisine appeals, then take a look at our holidays in Playa de la Arena and you could soon be there.
Search now to find our last minute Playa de la Arena holidays.
Playa de la Arena Photos