Puerto De La Cruz Holidays
Puerto De La Cruz Holiday Deals
Puerto De La Cruz Summary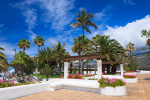 Puerto de la Cruz holidays are a perfect choice for those wishing to escape from our dreary winters. Located on the northern coast of Tenerife, this historic town has much to offer all age groups. Holidays to Puerto de la Cruz are ideal for sun worshippers, water sports enthusiasts, families with young children as well as older couples and young singles.
Cheap Puerto de la Cruz Holidays
You'll be surprised at our collection of cheap Puerto de la Cruz holidays which should leave your wallet with euros to spare for Tenerife's famous tax free shopping. Holidays in Puerto de la Cruz provide an exciting base from which to visit the island's attractions. With restaurants said to be the best on Tenerife, bargains to be found in the upmarket boutiques and specialist shops, and bars and clubs providing a lively nightlife, it is no surprise that our Puerto de la Cruz holiday offers fly from the shelves.
Search now for our last minute Puerto de la Cruz holidays
Puerto De La Cruz Photos