Brescia Holidays
Brescia Holiday Deals
| Date | All Inclusive | Half Board | Self Cat. | Full Board | B&B | Room Only |
| --- | --- | --- | --- | --- | --- | --- |
| Dec 2023 | - | £159 | - | - | £71 | £66 |
| Jan 2024 | - | - | - | - | £62 | £63 |
| Feb 2024 | - | - | - | - | £63 | £65 |
| Mar 2024 | - | - | - | - | £71 | £73 |
| Apr 2024 | - | - | - | - | £83 | £95 |
| May 2024 | - | - | - | - | £95 | £155 |
| Jun 2024 | - | - | - | - | £106 | - |
| Jul 2024 | - | - | - | - | £113 | - |
| Aug 2024 | - | - | - | - | £126 | - |
| Sep 2024 | - | - | - | - | £121 | - |
| Oct 2024 | - | - | - | - | £121 | - |
| Nov 2024 | - | - | - | - | £215 | - |
| Dec 2024 | - | - | - | - | - | - |
| Jan 2025 | - | - | - | - | - | - |
| Feb 2025 | - | - | - | - | - | - |
| Mar 2025 | - | - | - | - | - | - |
Brescia Summary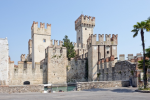 Brescia is located in the Lombardy region of Northern Italy near to Lake Garda. It is a medieval town with many fine buildings. Brescia holidays are popular with those seeking a city break in picturesque surroundings.
Cheap Brescia Holidays
We have a selection of cheap Brescia holidays that are excellent value as standards of accommodation and service remain high. Holidays to Brescia bring many visitors as the city and the region have attractions to suit many interests. The narrow streets of the old city hold many treasures with old churches and monasteries, Roman ruins and Renaissance squares. Holidays in Brescia also offer a variety of recreational activities including golf at a superb course designed by Jack Nicklaus. Ronchi is an area a few kilometres from the city centre where meadows and woods provide ideal cycling and jogging terrain. Being close to Lake Garda holidaymakers can enjoy all that the lake has to offer. Surf through our Brescia holiday bargains and you'll surely find one to suit. Search now to find our latest Brescia holiday offers.
Brescia Photos