Naples Holidays
Naples Holiday Deals
| Date | All Inclusive | Half Board | Self Cat. | Full Board | B&B | Room Only |
| --- | --- | --- | --- | --- | --- | --- |
| May 2022 | - | - | - | - | - | - |
| Jun 2022 | - | £143 | - | - | £80 | £75 |
| Jul 2022 | - | £198 | - | - | £130 | £122 |
| Aug 2022 | - | £198 | - | - | £204 | £191 |
| Sep 2022 | - | - | - | - | - | - |
| Oct 2022 | - | - | - | - | - | - |
| Nov 2022 | - | - | - | - | - | - |
| Dec 2022 | - | - | - | - | - | - |
| Jan 2023 | - | - | - | - | - | - |
| Feb 2023 | - | - | - | - | - | - |
| Mar 2023 | - | - | - | - | - | - |
| Apr 2023 | - | - | - | - | - | - |
| May 2023 | - | - | - | - | - | - |
| Jun 2023 | - | - | - | - | - | - |
| Jul 2023 | - | - | - | - | - | - |
| Aug 2023 | - | - | - | - | - | - |
Naples Summary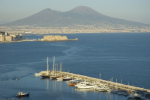 On the south west coast of Italy, sandwiched between the Apennine Mountains and the deep blue sea, is the region of Campania. An area of great natural beauty that is home to the ountry's third largest city, Naples. Naples holidays take you to a huge, sprawling Metropolis that boasts an almost three millennia history. Framed by pine clad hills, cliffs dropping into the sea, and looking out over the bay to pretty islands, Naples and the Neapolitan Riviera lie in a fantastic spot. The architecture of the old town has great examples from medieval, baroque and renaissance periods. Explore the palazzos, the frescoes in the churches and the museums. Visit art galleries to see works by such old masters as Titian, Raphael and Caravaggio.
Go back to ancient Roman times.
Immerse yourself in the history and the culture of the city, and when you want a change of focus, take a trip to the many places of interest in the region. Top of everyone's list is of course Mount Vesuvius and Pompeii. The terrible drama that unfolded in AD 79 still has the power to shock. You can appreciate even now, the speed of events that overcame the population as they went about their daily lives. Take a boat trip across the bay to the islands, including Capri, or take a train to the Amalfi coast, a truly stunning area. Although Naples has a couple of beaches, most visitors leave the city and travel to nearby beaches and lidos. 
Cheap Naples holidays.
Cheap Naples holidays offer a wide range of accommodation from room only to five star hotels. Locals are warm and welcoming and service is good. Italian food is renowned the world over, and it isn't all about pizza and pasta. However since Naples is the home of the pizza, you can't leave without trying an authentic version or two. Nightlife can be very lively in the city, although there is entertainment to suit all tastes and moods. The city is a mecca for shoppers with everything from departmental stores to market stalls.
If you are tempted by a cheap Naples holiday but can't face the arduous task of trawling through web page after web page trying to find the best deal, try our simple search facility. You'll find over three dozen travel companies competing for your custom. It is simple to use and remember, competition brings out the best bargains. Our search facility enables you to see, at a glance, the Naples holiday that is the cheapest and the one that offers the best value for money.  All you have to do to secure the holiday is make a phone call. To book the best deal, and to avoid disappointment,  ring today. If you have used up most of your holiday entitlement, consider a cheap Naples city break. They are very popular during the winter months and in early and late season.
Naples Photos