Rimini Holidays
Rimini Holiday Deals
Sorry, we have no offers to display for this destination.
Rimini Summary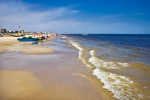 Rimini holidays take you to a very attractive city on the Adriatic coast of north eastern Italy. It is an historic town with many archaeological sites from the Roman period. With wonderful sandy beaches Rimini is a very popular destination with many Italians choosing to holiday there.
 
Who visits Rimini?

It attracts all ages of visitor as it has so much to offer. The twenty kilometre sandy beach is of course its main attraction. With soft sand, perfect for castles and other sculptures, together with clear warm water that is ideal for paddling, cheap Rimini holidays are a favourite with families. The availability of water sports such as kite and wind surfing, added to the promise of lively evenings, make them popular with young adults. Couples of all ages enjoy the beauty of the town with its many sightseeing opportunities.

Top of the sightseeing list is the Roman amphitheatre. It illustrates the importance of Rimini in those days as it was second in size to the Coliseum in Rome. During the summer months classical concerts are held in this atmospheric venue. A wonderful experience, but take a cushion! The Tiberius Bridge, dating from the first century, and the Arch of Augustus are also remarkable. Visit the medieval quarter of the city for many more fine buildings and be sure to visit the church of Madonna Della Scala.
High standards of accommodation.

Rimini holiday accommodation offers high levels of comfort and service.  In Italy it is taken for granted that eating will be a pleasure, and Rimini restaurants do not disappoint. In addition to the many pizza and pasta establishments, you'll find superb fish restaurants. Fresh from the morning catch, and with carefully prepared recipes, you are in for a treat. While Rimini nightlife is fairly lively, there are many restaurants where families can enjoy an evening. Those for whom a holiday is incomplete without a shopping trip will be delighted by Rimini's many retail opportunities.

If you've never been to the area before, and you fancy a cheap Rimini holiday but find the thought of trawling through web page after web page looking for the best deal more than a little off-putting, try our simple search facility. You'll find over three dozen travel companies, including leading brands, competing for your custom. It is simple to use, and remember, competition brings out the best bargains. Our search facility enables you to see, at a glance, the Rimini holiday that is the cheapest, and the one that offers the best value for money. It couldn't be easier. All you have to do to secure the holiday is make a phone call. As offers change daily so in order to avoid disappointment ring today.
Rimini Photos