Sicily Holidays
Sicily Holiday Deals
Sorry, we have no offers to display for this destination.
Sicily Summary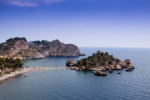 Sicily is a small Italian Mediterranean island over-flowing with stunning scenery and captivating landscapes, ancient monuments and ruins, exciting towns, traditional villages, and beautiful sandy beaches. It even has its own volcano. Cheap Sicily holidays have wide appeal as they offer something for everyone.
Cheap holidays to Sicily.
Its chequered history is clearly visible with Greek and Roman remains, and remarkable buildings dating from medieval times. You don't need to have an interest in history to appreciate these sights. Then there are the beaches, some are shingle, most are soft sand, perfect for young families especially when washed by warm, safe waters that are ideal for paddling. Palermo, with its labyrinth of medieval streets is a must for holiday shoppers and diners alike.
Savour the delights of Italian food.
Italian food is popular the world over. Sicily takes the best of Italy and adds its influences from the past, making it just a little different. As always in Italy, accommodation is very good and service is excellent.
Nothing appears to be too much trouble. If you are looking for a guarantee of summer sunshine, in an area of outstanding natural beauty and a plethora of tourist attractions and recreational activities, look no further than a cheap Sicily holiday. Your holiday can be as relaxing or as active as you wish. The choice is yours. With beauty all around, scrumptious food and delightful wines, Sicily holidays tick most boxes.
If a cheap Sicily holiday appeals and you wish to avoid the tiresome task of trawling through web page after web page trying to find the best deal, try our simple search facility. You'll find over three dozen travel companies competing for your custom. It is simple to use and remember, competition brings out the best bargains. Our search facility enables you to see, at a glance, the Sicily holiday that is the cheapest and the one that offers the best value for money.  All you have to do to secure the holiday is make a phone call. To book the best deal, don't delay, ring today.
Sicily Photos