Holidays in August
August Holiday Deals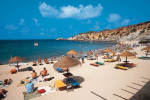 August is the last real peak month in the summer season, with the weather beginning to cool slightly as we start to approach September. This is why August is the ideal month to make sure you've had a substantial break before the autumn and winter seasons approach.
As usual, in the summer months of July and August, it's hard to go wrong with a holiday to a destination off of the Mediterranean coast. Spain, Greece and Turkey are all tourist favourites and for good reason. The lively atmospheres generated by vast numbers of travellers will all add to an unforgettable holiday of bustling joy.
Greece is a top summer hotspot as its temperatures are hitting annual peak and the beaches are not too be missed in this kind of climate. The island of Kefalonia is a top location, famous for its sandy coves and glorious scenery. The beaches stretch all the around the island to ensure that will always be enough space to relax the Greek way. There are also always plenty of water sport activities taking place for those that like to stay active, including kayaking around the island, a great way to absorb the islands beautiful views.
All of our holidays are fully protected by ABTA (Association of British Travel Agents) and ATOL (Air Travel Organisers Licence) so there really is no reason not to book your August holiday today with the Holiday Discount Centre.