Holidays for 2024 - Low Deposits from £39pp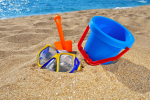 Booking in advance is the number one to save money on your holiday. The longer you wait to book, the more likely that prices are to shoot up when you least expect it. Not to mention the fact that you get much more say on destinations, deals, seats, resorts and pretty much everything else when you book with plenty of time. Although 2024 might seem like a bit of time away yet, it certainly pays (literally!) to start planning and booking as soon as possible. There are plenty of amazing destinations all over the world to consider when booking your 2024 holiday and here are a few of our favourites…
When it comes to holidays, most people are looking to escape the unpredictable and often cold weather of the UK for a bit more sunshine and more warmth. A destination that ticks those boxes and much more is Portugal. The Algarve is one of the most well-known, sunshine-welcoming and budget-friendly destinations in the whole of Europe with travellers coming back year after year. The island of Madeira offers similarly gorgeous weather whilst boasting its volcanic history with its landscapes and beaches. Portugal isn't short of a great city break or two either, with Porto and Lisbon being the top picks.
Slightly more further afield but certainly worth the distance is Turkey. It is one of the most affordable destinations on the planet when it comes to the combination of living costs, accommodation and flights from UK airports. Antalya and Bodrum are generally considered to be the best areas to target with a wide range of beaches, bars, restaurants, activities and sight-seeing to do. If you are looking for something a little bit different either while you're out there or as a completely separate holiday, a city break to Istanbul is a truly unforgettable experience.
If 2024 is the year that you decide to take a trip to the other side of the world, then there are a number of dreamy destinations that we can recommend. The United States of America is probably the most diverse destination in the entire world, from the theme parks of Florida to the city breaks of New York and San Francisco to mountains and lakes holidays to Colorado, the country is almost like a continent in itself. We also highly recommend looking to see what is available and to your taste in Asia. There are paradise-like resorts for a tiny price in places like Thailand and Bali, whereas you can live the lavish lifestyle in places like Dubai.