Holidays for 2019 with Low Deposits from £49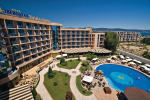 The summer of 2019 is right around the corner, and if you're looking to get away you should really be thinking about booking up now. Here at Holiday Discount Centre we have 1000's of holiday destinations across Europe and further afield available at top prices. The peak months of July and August are quickly selling as families will be looking to the make the most of their time off with the kids.
One of our bestselling family-friendly destinations is Turkey. Turkey has everything to offer for a wonderful summer break, with its pristine golden beaches and its soaring temperatures along with a modest flight time of just over 3 hours. The country has a rich history and culture, with plenty to see and do, from its historical battle grounds, delicious cuisines and famous nightlife to provide something for everyone. With great deals on all-inclusive holidays and half board available, whatever your preference as to how you spend your holiday, there should be a deal right for you. Other destinations that offer the same kind of experience of a holiday to Turkey include the likes of Spain and the Canary Islands, Greece and Cyprus, which all have similar climates in the summer months.
If you prefer to soak up the summer climate in the UK but still fancy a break at a later point in the year, the autumn and winter months would be the ideal time to skip past the cold and darkness. Towards the end of the year, the Caribbean is really starting to hit its peak weather season, without the extreme climates of the summer months. Holiday Discount Centre also offer fine deals on Skiing holidays across Europe, if you would like a change from the beach holidays of the traditional winter warmers.
All of our advertisers holidays are fully protected by the CAA (Civil Aviation Authority) under their ATOL (Air Travel Organisers Licence) scheme so there really is no reason not to book your summer 2019 holiday today through the Holiday Discount Centre.
Click HERE for the latest holiday & travel information for bookings effected by the Coronavirus