Holidays for 2023 - Low Deposits from £39pp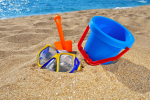 It is a good idea to start looking now at what is out there for your 2023 holidays if you want to jet off to a fantastic destination at an affordable price. By booking well in advance you can take advantage of things like low deposits, free child places and you can grab the lowest prices that are out there. Who doesn't want to save a bit of money when travelling? Our most popular destinations include Greece, Turkey and Spain but there are an abundance of destinations you can enjoy for a low price in 2023 so after a bit of research you are sure to find something which suits you. But first, a bit more detail about our top destinations for cheap 2023 holidays.
Visit Greece in 2023
Greece is one of the top destinations to visit as it has such a great variety of attractions and holidays that are suitable for all types of traveller, so no matter if you're travelling with friends, family or as a couple you will find Greece is always a good option. If you like a good city break while exploring the history of places, why not head to mainland Greece and visit some of the oldest cities in the world like Athens. For a more relaxing, all-inclusive beach holiday, you should try somewhere like the stunning island of Corfu. Alternatively, if you enjoy staying out to party, then you will want to target somewhere like Kos and finally, for just a completely beautiful destination you have to visit the gorgeous Santorini.
Turkey Holidays for 2023
Turkey is yet another great destination that should definitely be placed at the top of your picks for cheap 2023 holidays. It has everything from a rich culture and history, to cheap eating and drinking as well as many places to relax and unwind so it is no wonder it takes its place as one of our favourites. Antalya is one of the best all-round resorts to target if you're looking for a mix of excitement and relaxation during your stay, however if you are looking for something more laid back we would recommend Bodrum. Finally, it is definitely recommended to take a trip to the capital of Istanbul if you have time, you will find the architecture and history is unlike any other, sure to make your holiday one to remember.
Spain 2023 Holidays
Spain is another excellent 2023 holiday destination and has long been a favourite with us Brits, so don't wait around and book today to make sure you don't miss out on the best deals. Its warm temperatures, golden sands, clear waters and chilled-out culture is what attracts tourists to visit year after year. Not only that but, with low-cost flights to almost anywhere on the Costa Dorada, Costa Blanca and Costa del Sol, you can take a short, direct flight and be transported to a relaxing haven by the afternoon! Spain is also one of the best destinations for city breaks. The capital of Madrid should definitely be on your list alongside the incredible, well-known city of Barcelona or if mega-cities aren't your thing why not visit the more fascinating Andalusian cities of Seville and Córdoba.