March Holiday Deals
March Holiday Deals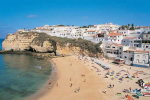 If you want to avoid the crowds and the high prices this year, why not book yourself a March holiday? Although the peak summer season has not started yet, there are still many holiday destinations that provide fabulous summer sun. March holidays are extremely popular with those wanting to indulge in a relaxing break. As the peak season has not yet started, there is less chance of rowdy travellers wanting to experience a wild nightlife as many of the nightclubs are not open yet. Families with small children also take advantage of March holidays; it is a great chance for families to spend time together in a safe, laid back environment. As many of the older children are at school during March, families won't have to compete for kids club places or even space in the pool!
A March holiday is a great way to say goodbye to the winter months, fly to one of the popular resorts and savour the blossoming summer weather. Although March is not one of the hottest months, it is still warm enough to get a great pre-summer tan to show off before the sun hits our shores! If you do want to enjoy some scorching heat, head to one of the many long haul destinations available. Egypt is a fantastic place to spend your March holiday, with hot sun, clear waters and golden sand. The tourist resorts provide the epitome of holiday luxury for great value March holiday prices. The Caribbean is another fantastic resort for those wanting a tropical March holiday destination. Why not book a romantic cruise around the island? Perfect for those that want to avoid all the stress and strain.
Many tourists head to one of the many fantastic beach resorts that are only a short flight away. The Balearic Islands are a popular choice; enjoy the stunning scenery whilst appreciating the Mediterranean climate. Many of the beaches will still be quiet and peaceful, perfect for a relaxing getaway. Portugal is another great destination with many heading there to take advantage of the great golfing facilities available. Head to one of the high quality courses and take in the stunning scenery, the cooler temperatures mean that it is ideal to enjoy your game without the uncomfortable heat.
There is so much choice available for those wanting to experience a March holiday. After a long winter, why wait to head to one of the stunning destinations that are already basking in summer sun. With great prices available for March holiday getaways, book your break now and say an early hello to summer!