Holidays for this Spring
Spring Holiday Deals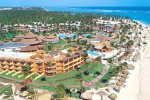 If you haven't any plans for the summer but fancy a break, the spring could present your best opportunity for the year. Although sun isn't always guaranteed to be shining in Europe, it should be ideal weather for those that like to get out and explore. After all, the peak temperatures of the summer months can be rather overwhelming and it can be hard to do much other than lounge by the pool. The spring climate is perfect for city breaks across continental Europe. Paris is always a top destination whatever the weather, but sunny spring weather offers the perfect conditions for relaxing strolls around the city and along the canals. As the sun sets, the famous cafes and restaurants of Montmartre will help you relax the right way, where you can sit outside and watch the world go by in sweet Parisian style.
For guaranteed sunshine in spring, a long haul flight could be your best bet. Try Cuba, with its most desirable climates peaking around April. Cuba is a special little country that has been through a lot of economic instability over the last 50 years, but with the US embargo recently lifted, the island has begun its resurgence into a prosperous island. 1960's cars still scatter the streets, creating the closest feeling of time travel you may get in the contemporary western world. Along with the bustling Latin city of Havana, its beautiful sandy beaches and clear blue Caribbean seas are another highlight of Cuba, with beautiful weather guaranteed, which will offer a perfect balance of city and beach life.
If the long haul flight times of the Caribbean are not to your fancy, there are still some destinations in Europe with high chances of sun. Mallorca is one of the best options at this time of the year as temperatures are averaging around 20c and upwards, particularly in the south, with the added bonus of the lower number of tourists compared to the summer. The quieter crowds allow you to explore the old towns and the glorious countryside scenery, which is beginning to blossom at this time of year.
All of our holidays are fully protected by ABTA (Association of British Travel Agents) and ATOL (Air Travel Organisers Licence) so there really is no reason not to book your spring holiday today with the Holiday Discount Centre.